Obama issues first deepwater drilling permit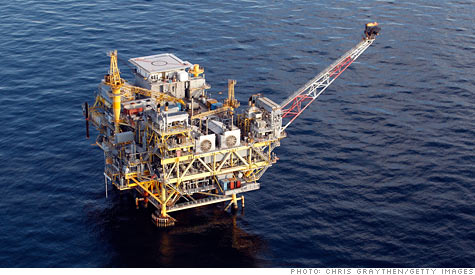 NEW YORK (CNNMoney) -- The Obama Administration approved a permit to drill a deepwater oil well in the Gulf of Mexico Monday, the first such permit issued since the BP disaster last spring.
The permit is for a Noble Energy well in Mississippi Canyon Block 519, approximately 70 miles south east of Venice, La., close to the spot where the BP rig sank.
"This permit represents a significant milestone for us and for the offshore oil and gas industry, and is an important step towards safely developing deepwater energy supplies offshore," said Michael Bromwich, director of the Bureau of Ocean Energy Management, Regulation and Enforcement.
The agency has been heavily criticized by the oil industry and others along the Gulf coast for delays in issuing new drilling permits.
Only 37 shallow water permits have been issued since a moratorium issued following the BP spill in April was lifted in the summer. The deepwater moratorium was officially lifted in October, but no new permits had been issued until Monday.
The industry argued the delays have cost jobs and hurt domestic production. Supporters of the go-slow approach contend it was necessary to reform a badly flawed oversight process in the wake of the worst oil spill in U.S. history.