Rich Americans flock to fast food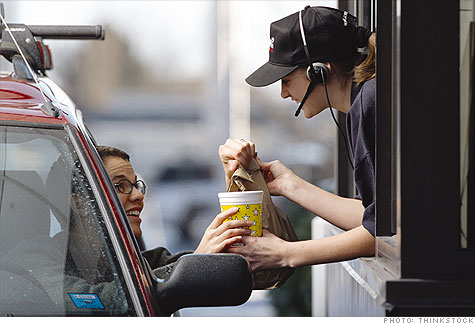 NEW YORK (CNNMoney) -- When it comes to cutting back, the rich are learning a little secret the rest of us have always known: fast-food is cheap and good (if not good for you).
Quick service restaurants, such as McDonald's and Subway, saw a bigger rise in spending by ultra-affluent consumers than any other restaurant type last year, according to the most recent data by American Express Business Insights.
Lori and Santiago Riviere are among those that have recently been turned on to fast-food dining.
They call themselves "dinks" -- as in dual income no kids. She's an attorney, he works in finance and together they make "well over six figures." Still, she says the recession has changed her mindset about spending.
"Dining out on a daily basis was completely normal for us," she says. "Now we eat in or get some form of take out of less expensive food."
Their economical dinner of choice: Chipotle or Baja Fresh.
"Instead of going to a restaurant and coming out with a $75 bill you come out with a $25 bill," said Riviere. "Tipping comes into consideration, too."
Riviere says they order take out most evenings instead of dining out in order to save some extra money for luxury goods.
"I think it's a sacrifice, but when you have to choose between that and a pair of Jimmy Choos, I'm going to choose the Jimmy Choos."
In the aftermath of the Great Recession, even the wealthiest Americans are making similar trade offs to curb spending.
In the fourth quarter of 2010, spending on fast food increased 4% among American Express' most affluent customers, or the top 10% of spenders, the AmEx data said. Meanwhile, spending on casual dining decreased by 4%.
"As the economy continues to recover, affluent consumers are showing restraint in spending in some areas, but not others," explained Ed Jay, senior vice president of American Express Business Insights.
Jay says that affluent consumers exhibited a "return to value" during the recession and are still demonstrating frugal behaviors where possible, like spending more at fast-food restaurants.
"As wealthy consumers scaled back on consumption overall they started to go to more value or price oriented restaurants, and frankly chains," added Milton Pedraza, the CEO of the Luxury Institute, which tracks spending among wealthy consumers with a minimum annual income of $150,000.
"No one will do without their iPhone or iPad, and very few people want to forgo travel, but there are other categories that are not priorities," he said. Particularly when it comes to dining, "people have been making trade offs."
Meanwhile, popular economical chains like McDonald's are lovin' it.
Danya Proud, a spokeswoman for McDonald's says the company credits its recent growth in part to the addition of McCafe beverages, which include cappuccino, mocha and latté drinks clearly geared toward a more refined palette.