Forget $100 oil. $100 uranium is a real problem.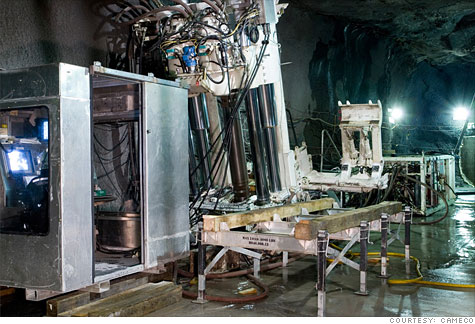 FORTUNE -- Just after Christmas, the container ship Altona, bound for China and carrying a load of 770,000 pounds of uranium concentrate (also known as yellowcake, the transportable form of uranium that will eventually be processed into nuclear fuel), ran into a storm in the South Pacific, between Hawaii and the Midway Islands. After three days of gales and heaving seas, the crew discovered that the containers in the hold had shifted and two drums of yellowcake had been smashed open. There was loose uranium in the hold.
The ship returned to British Columbia, and Canadian mining giant Cameco (CCJ) --which was delivering the processed uranium to a Chinese utility in Zhangjiang -- assured the world press there was never any serious danger of the uranium leaking into the sea, or harming the crew. The Altona berthed at Vancouver before transferring up the coast to a Cameco plant for clean-up.
While the incident sparked little outcry, it's an apt symbol for the unsettled waters into which the nuclear-power industry is sailing. Supplies of uranium, which has been in surplus since the fall of the Soviet Union, are beginning to tighten, and prices are rising again after plummeting during the world financial crisis of 2008-09.
Uranium hit a three-year high of $73 a pound on the spot market at the beginning of February, and there are predictions that it could go much, much higher: a pair of analysts at CRU Group, a commodities and minerals analysis and consulting firm, said in a recent report that prices over the next decade could challenge the all-time high of $136/lb., set in the pre-crash days of 2007.
The nuclear renaissance
For suppliers like Cameco, and for nuclear power utilities worldwide planning new reactors by the dozens, a uranium shortfall would further complicate the heralded "nuclear renaissance" that promises to add thousands of megawatts (MW) of new nuclear generating capacity in the next 20 years. The prospect of that renaissance has added a speculative froth to uranium markets not seen since the nuclear go-go years of the 1970s, before Three Mile Island and Chernobyl. But it has also raised the specter of $100-plus uranium and spotty supplies of the world's most efficient source of energy.
"We're going to see major changes one way or another in the uranium supply-and-demand situation in the next 20-30 years," says Mark Hibbs, an international nuclear policy analyst at the Carnegie Endowment for International Peace, "but the uncertainties have never been greater than they are now."
Those uncertainties are fueled by two concurrent developments: rising demand as many countries, particularly India and China, embark on massive nuclear power build-outs, and the fall-off of the so-called "secondary market" -- i.e., uranium that has already been mined.
Next year will bring the end of the "Megatons to Megawatts" program, launched by the U.S. after the fall of the Iron Curtain to secure and safely reprocess dismantled nuclear warheads in the former Soviet Union. Since the mid-1990s M2M has dumped hundreds of tons of uranium onto the world market. Along with existing above-ground supplies, the repurposed Soviet material accounts for nearly half of the annual requirements of the world's nuclear fleet. That means that the yearly supply of newly mined uranium falls short of demand by 40-50%.
The world consumes on the order of 180 million pounds of uranium a year, points out Cameco CEO Gerald Grandey, and produces only around 140 million. With the end of M2M, and the depletion of uranium inventories built up two decades ago, "new primary production will be required," Grandey said during a recent symposium on "The Future of Nuclear Energy," in Denver.
The so-called nuclear renaissance threatens to widen that gap. China alone has announced plans to add 110 gigawatts of nuclear power-generation capacity over the next decade, a figure equal to 25% of total world nuclear power today. Cameco forecasts that more than 100 new reactors could be added worldwide over the next decade, further stretching already thin primary production.
Short-term focus, long-term void
That's good news if you're a producer of uranium, like Cameco or French nuclear giant Areva, or a uranium-rich country like Kazakhstan (which last year took over as the world's No. 1 source of mined uranium). If you're a nuclear-power utility in a country where developing new uranium supplies has not been a high priority -- like, say, the United States -- it's a less rosy scenario.
Ken Peterson, VP of nuclear fuels at Chicago-based Exelon Corp (EXC, Fortune 500), the largest producer of nuclear energy in the U.S., contends that major American utilities are covered by long-term uranium contracts lasting into the next decade, "and we have 100 percent [supply] coverage through 2015."
That may be enough for Exelon executives, and investors, but it's a blinkered view in terms of the longer term and the broader market. The third factor affecting uranium supply is the long lead time it takes to bring into production new uranium finds: at least 10 and often 15 years. That means there's a doughnut hole in long-term uranium forecasting: though there's plenty of uranium in the ground, says Grandey, the problem is bringing it to market fast enough. "Our challenge is investing and permitting and developing new mines fast enough to overcome the drop-off in Megatons to Megawatts."
Indeed, supply disruptions have occurred recently at big mines including the Ranger and Olympic Dam deposits, in Australia, while several large projects in development, such as Trekkopje, in Namibia, and Cameco's Cigar Lake mine, in northern Saskatchewan, have been delayed.
That's why the rapidly developing nations of India and China, as well as developed Asian tigers like South Korea and Japan, are moving aggressively to build partnerships and launch joint ventures with uranium producers, particularly in the former Soviet Union. To take one example out of many, Moscow and Tokyo in January announced an agreement to jointly prospect for and develop uranium ore deposits, as well as construct and operate new reactors. China, meanwhile, may well be stockpiling uranium: the country imported about 5,500 tons of yellowcake last year, according to physicist Thomas Neff, a uranium-industry analyst at MIT, while it consumes only half that much.
"The quantities purchased by China last year surprised us," says Philip Macoun of CRU, "and certainly contributed to the rising price."
Burned by aggressive ramp-ups and failed uranium-mining ventures from the 1970s, U.S. utilities -- most of which pay more heed to signals from Wall Street than from the world's uranium mines -- take a shorter-term, not to say more complacent, view.
The Americans are "out of sync with the rest of the world," says Mariangeles Major-Sosia, the vice president of international network coordination at Areva. "They don't have the longer vision that other countries have, because the U.S. doesn't really have an energy policy. They're publicly traded companies, so they're making decisions to next year or next quarter."
As long as the current generation of utility executives remains in power, that's unlikely to change.