GPS systems that save gas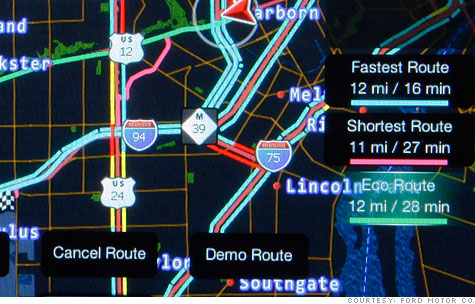 NEW YORK (CNNMoney) -- Ordinarily, you want a GPS navigation system to show you the quickest way to get where you're going. But with gas prices over $4 a gallon in some cities you might rather know the way that uses the least gasoline.
Some new navigation systems can now do that.
But if you're in a rush you should know this: Sometimes using less gas might take a little longer.
While ordinary GPS routing relies on data like the expected average speed on various roads, "Green Routing" or "Eco-Routing" adds in other factors, said Mark Burfeind, a spokesman for TeleNav, a digital mapping company that supplies an "Eco-Route" system used in some Ford Motor Co. vehicles.
Among the factors Ford's "Eco-Route" system looks at:
Hills -- Going uphill uses more gas.
Curves -- Slowing down then speeding up around curves uses more gas.
Stoplights and stop signs -- Having to stop -- and then get going again -- uses more gas.
Traffic -- Stop-and-go driving, idling and driving at very low speeds all use more gas.
Of course, many GPS systems already take traffic into account, but it's given greater importance when calculating an "Eco-Route." There may be cases in which driving through a traffic jam would be quicker because it's more direct, but driving around it would actually use less fuel.
Also, slower roads can be more fuel efficient. Once a car is going fast enough to use its highest gear, every mile per hour faster reduces fuel economy. So driving on a 50 mile per hour road, provided its straight and without stop lights, might be be preferable to a 65 mph rural freeway.
Compared to using the "fastest" route, Ford says its researchers found that using the "Eco-Route" option offered as much as 15% reduced fuel use in some of their vehicles. Map data company NavTeq, creator of a similar system that will be used by Hyundai in Europe, estimates a more modest 6% improvement.