Why is airfare rising? Because you keep paying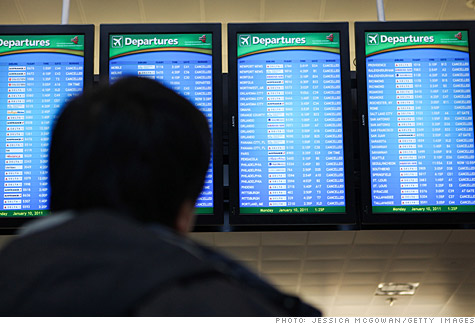 NEW YORK (CNNMoney) -- The cost of a plane ticket keeps jumping, and it seems the sky's the limit for price. Why? Because you're willing to pay.
The major U.S. airlines have hiked fares six times so far this year, already doubling the total number of increases for 2010, according to Rick Seaney, chief executive of Farecompare.com.
But consumers have continued to pay the increased fares, so the airlines have become bolder in driving the prices up even further.
The average roundtrip airfare between major U.S. cities has crept up to $311, which is getting awfully close to the spring-summer peak of $318 in 2008. This is an important benchmark for how high consumers are willing to go, Seaney said, and sticker shock could soon set in.
"I don't expect prices to rise unchecked," he said.
But prices may have already overtaken 2008 levels. Seaney said that the average airfares of $318 in 2008 versus $311 today do not include ancillary fees for checked baggage, pet travel, non-alcoholic drinks, food and other services that were free in 2008. So many travelers are probably paying more to travel now than they were in 2008, or even 2001 -- the previous peak.
"I think airlines may be getting close to travelers' wallet breakpoint," said Seaney. "When or if that does happen, airlines will begin pulling the lever on seat cuts and fee hikes."
But for now, airlines have been hiking up fares, practically on a daily basis, said Tom Parsons, travel pricing guru at BestFares.com. They also hiked up fuel surcharges by more than 20% since 2008, even through oil prices are down about 28% since their 2008 peaks.
The airlines have also cut capacity, meaning they eliminated their least fuel-efficient flights. This has been a highly successful strategy for airlines, allowing them to fly fuller planes and provide fewer choices for consumers.
"I wouldn't touch an airline ticket right now," he said. "Don't blink. Let the airlines blink first."