Ford's Mulally awarded $33 million in stock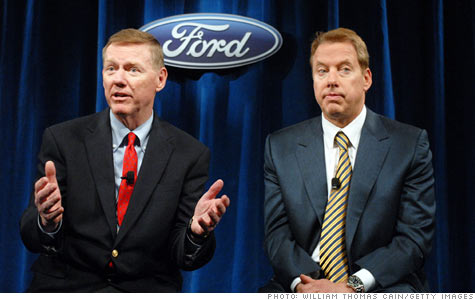 NEW YORK (CNNMoney) -- Ford Motor has rewarded the executives responsible for its turnaround, granting CEO Alan Mulally $33.4 million in stock after taxes, according to filings with the Securities and Exchange Commission.
Mulally has overseen a tremendous turnaround for the automaker -- both in terms of stock price and profit. On March 3, according to the SEC filing, he received the stock, as well as a slew of options and restricted shares.
Also cashing in was the company's executive chairman, Bill Ford Jr., who took home $25 million after tax in the form of unrestricted stock.
A spokesman for Ford said the awards are in line with Ford's philosophy of tying compensation to performance and long-term shareholder value.
"It's all stock based, tied to the long-term interests of the company," said spokesman John Stoll. "The value today reflects the comeback of the share price, and the success of Alan and Bill."
The compensation was agreed to by the company's board in 2008, the same year that Ford shares dipped below the $2 mark. On Monday, shares closed at $14.01.
Mulally also received 884,443 stock options with a strike price of $14.76 and 543,743 restricted shares that can be converted up until 2013, according to the SEC filing.