Hackathon recipe: Insomnia + Red Bull = new apps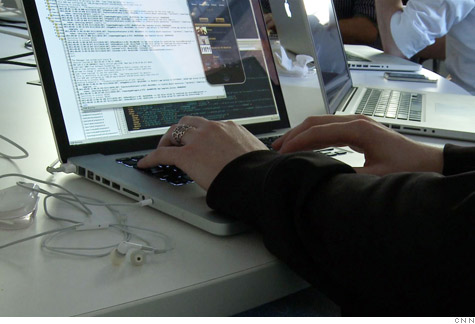 NEW YORK (CNNMoney) -- Throw a bunch of programmers into a room with laptops, Red Bull and pizza for a hours at a stretch and what do you get?
Creative breakthroughs. That's the idea behind "hackathons," where groups of engineers band together for marathon coding sessions. The term "hacking" tends to come with negative connotations, but in the tech world, it simply means cranking out code for a cause.
"Hacking really doesn't mean I'm going to break into a system and steal people's identities," says Gilt Groupe engineer Mark Wunsch. "It means we're going to try and come up with clever solutions for problems."
Hackathons are typically off-the-cuff events with loose guiding goals, and open-source developers are among their biggest evangelists. But lately, companies have been adopting the idea.
Online fashion retailer Gilt Groupe recently held its second hackathon to invent and improve on features for its website. Armed with coffee and snacks, staff engineers set up shop at 11 a.m. on a Thursday morning and prepared to spend 24 straight hours coding.
"It gave us a chance to actually focus on one thing," says developer Evan Maloney. "There's something else that happens with the creative process when you've been awake for a while, where you start to have ideas that you may not necessarily have if you had your wits about you."
A full day later -- noticeably more exhausted -- the group presented their creations. One new app they created detects the color of any object you point your smartphone at. It will then show everything the website has for sale in that color.
Gilt Group isn't the only company using hackathons to spark corporate creativity. Facebook makes them a regular feature of its product development process.
"Hacking is a central part of Facebook's culture," the company wrote on its blog in December. "Whether we're building the next big product at one of our Hackathons or creating a smarter search algorithm, we're always hacking to find a better way of doing things."
Location-based network Foursquare recently hosted its first Hackathon. More than 150 developers spent a day building new features on top of the company's API. Fifteen hours -- plus 25 pizzas and 300 cups of coffee later -- engineers came up with 39 apps built on Foursquare's infrastructure.
"It definitely helps kickstart creativity," says programmer Jonathan Wegener, who took a break from working on his own venture -- part of startup accelerator TechStars' first New York cohort -- to participate.
In one day, Wegener created a feature for Foursquare users called 4squareand7yearsago, which sends users a daily history of their check-ins a year ago.
And as startup valuations soar and tech companies battle to find engineers, it can't hurt to gather a group of talented engineers in a room for 24 hours to see what they're capable of.
"It's often secretly about recruiting," Wegener says.