We paid cash for our million-dollar home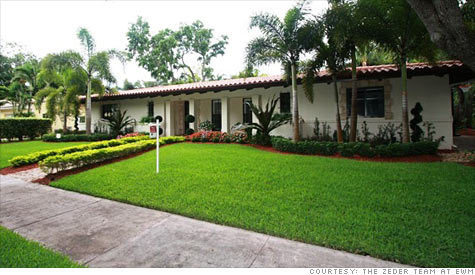 NEW YORK (CNNMoney) -- Laura Dominguez-Vasquez and her husband, Luis, recently sold their Coral Gables, Fla., home to all-cash buyers for just under $1 million. They're now shopping for a new home and intend to pay cash as well.
The busy professionals have three kids, aged 14 to 20, and they don't have the time or inclination to mess around with homebuying. "The process has to be painless," she said.
The Vasquezs are not unique; cash buys are becoming common. The number of homes bought with cash jumped to 32% in January compared to 26% a year earlier, according to the National Association of Realtors.
In Southern California, about 30% of the sales in January were cash, according to DataQuick Information Systems. Same thing in Denver. In Phoenix and Las Vegas, cash sales topped 50% of all deals.
"I'm personally closing about 30 deals a month and at least 30% of them are all cash," said Ruth Pugh, a San Diego-area agent.
One big factor forcing people to pay cash is weak appraisals. Before a sale, banks evaluate nearby homes to see how much a property should be valued at. But in one-time bubble markets, such as Miami, prices are still weak and appraisers are using foreclosures -- which sell at big discounts -- as the basis for their valuations.
As a result, appraisals are low and banks are refusing to finance the full amount needed to complete sales. So if you want the house, you have to bring cash.
Plus, sellers are often more willing to accept offers -- even lower ones -- from cash buyers because there is little chance of the deal falling through.
"You don't want to have to count on the banks and the appraisal process," said Dominguez-Vasquez. "It makes cash deals more attractive to sellers and makes it easier to for buyers to negotiate."
Bargain prices for condo buyers are also forcing the all-cash trend higher. For example, Jaime and Enriquetta Pena paid $90,000 cash for a two-bedroom, two-bath condo in Long Beach, Calif.
"They had saved for a while," said Joe Mendez, the couple's Coldwell Banker real estate agent. "They're ecstatic that they were able to purchase something without getting a mortgage."
Some condo buyers just can't get financing because the condo communities fall short of requirements of Fannie Mae and Freddie Mac, the two government agencies that guarantee most of the mortgages issued in the United States.
At least 70% of the units in a development have to be owner-occupied or in contract before the agencies will back loans. That means that in buildings where sponsors still own most of the units, buyers can't get mortgages.
Even buyers who can obtain financing choose not to simply because the approval process is long, complicated and painful. Anthony Waller intended to finance his purchase but changed his mind after he started talking to lenders.
"The main reason I paid cash is that I'm part of a family company," said Waller, who is a project manager for Waller Marine, a naval architecture firm . "The banks wanted to look into every aspect of our company finances. It becomes very onerous."
He wound up paying $1.3 million for a 10,000-square-foot home in northwestern Houston -- and didn't have to produce all the reams of company paperwork a mortgage lender would have required.
Of course, many cash sales involve investors. There is such a glut of foreclosures on the market that they can snap them up cheap and not have to worry about interest or payments.
"Some of the homes are in poor shape and may not even qualify for financing," said Michael Litzner, a real estate broker on Long Island, N.Y. "In other cases, the banks take a lower price than from someone who would have to get financing."
Brian Fuller is one such investor based in California. In the past, he bought mostly at foreclosure auctions. Now he buys repossessions and short sales, paying all cash.
"We found there was just too much competition at auctions," he said.
And the prices may be a bit cheaper. In January, the median price for all homes sold in California was $270,000 but only $190,000 for homes sold for cash, according to DataQuick.
The National Association of Realtors does not break out selling prices for cash deals vs. financed purchases, but finds that "anecdotally, they would be in the lower price ranges," said Walter Molony, a NAR spokesman.
That should continue to bring cash buyers to the market.
"Everyone has been saying 'Cash is king.' Well, some people are listening," said Ruth Pugh.