AOL cuts 900 jobs after HuffPo buy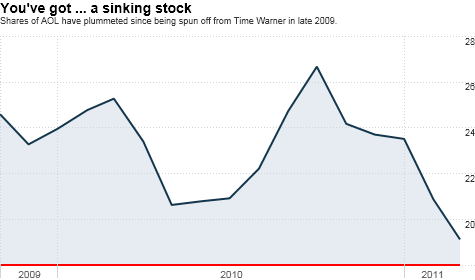 NEW YORK (CNNMoney) -- AOL CEO Tim Armstrong said Thursday the company is cutting 200 jobs in the U.S. and 700 in India following its $315 million purchase of the Huffington Post.
Armstrong, speaking at the Bloomberg Media Summit in New York City, lamented the cuts but said AOL (AOL) is "much more healthy" than it was a few years ago.
"From a portfolio perspective, you need to continue to invest in things that make you profitable," Armstrong said. He added that he would address his employees about the cuts after leaving the conference.
Armstrong added that AOL's staff is moving toward having 70% of its staff be in editorial or other content divisions. That's up from a little more than half currently. He also said AOL intended to have more full-time workers and fewer freelancers.
AOL unloaded 40% of its cash on the Huffington Post purchase last month. As part of the deal, HuffPo founder Arianna Huffington became president and editor-in-chief of all HuffPo and AOL content.
At the conference, Armstrong said Huffington was moving to New York City Thursday.
"She is fearless, and she wants to do great things," Armstrong said. "I didn't know her that well, but we had spoken on a few panels together. She approached me saying that we had a similar vision."
Armstrong said the HuffPo buy was "a signal" to competitors about AOL's path and a reflection of his belief that the digital space "is only going to get bigger."
In the past year, AOL has spent $530 million on acquisitions as it focuses on becoming a content company rather than an outdated Internet portal. In a single week last September, AOL bought TechCrunch, online video distributor 5Min Media and social media company Thing Labs.
Armstrong also discussed AOL's dial-up business, which currently accounts for 40% of its revenue. He said that business "still has a few years," but AOL's annual yearly decline in that revenue stream is 25-29%.
"You have to reinvest in your content," Armstrong said. "Access to cash can be like a rich uncle -- you just get money and you never have to learn. It's time for that to change."
Armstrong implied the content acquisitions are a positive for the "bunch of big shareholders who hold onto the stock." He said AOL stock had a "pretty small float," and he noted that he invested $10 million of his own cash in company stock a few weeks ago.
Nonetheless, AOL's stock fell about 1% Thursday morning. Shares are currently trading near their lowest level since AOL was spun-off from CNNMoney parent company Time Warner (TWX, Fortune 500) in November 2009. The stock has dropped nearly 25% since its IPO.
But Armstrong remained optimistic.
"AOL will turn around. I have no doubt about that. The employees deserve a ton of credit," he said. "To go from managing a decline to managing growth is physically getting up and doing something different every day."