Japan's auto industry hit, but recovering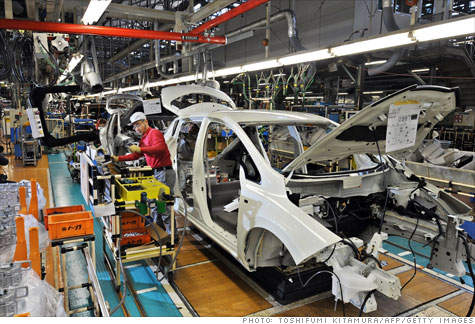 NEW YORK (CNNMoney) -- Most Japanese automakers suffered little damage from Friday's massive earthquake and say they are recovering quickly, but there were some injuries and one death in the nation's powerful car industry.
Honda was among the hardest hit.
As many as 30 Honda employees were injured in Japan's massive earthquake, according to a spokesman in the U.S., and one was killed.
A 43-year-old man was killed at a Honda Research and Development facility in Tochigi Prefecture, just outside of Tokyo. Honda's R&D division has been shut down and production has been suspended at three of its factories until at least Monday.
Nissan said there was no major damage at its factories, but that small fires had broken out at two of its manufacturing facilities. Those fires were quickly extinguished, the automaker said.
Two employees at a Nissan plant, also located in Tochigi, suffered minor injuries, the automaker said.
Nissan said it is closing its factories through Sunday. Facility assessments will be made over the weekend to decide if the plants can resume production on Monday.
Toyota Motor Co's said its main production facilities are operating normally but four parts plants in northern Japan were shut down and evacuated.
Mazda, based in Hiroshima, located on the south eastern tip of the Japanese Island nation announced that its overnight factory shifts would be operating as normal. Most of the damage was concentrated in the northeast of the country.
The powerful earthquake to hit offshore on Friday, collapsing buildings, touching off widespread fires and unleashing walls of water up to 30 feet high.
Hundreds of people were dead and hundreds more missing, Japanese media reported, citing local and national police. Tens of thousands of people were displaced, according to Japan's Kyodo News agency.