Generics' new legal attack: Big Pharma's aging patents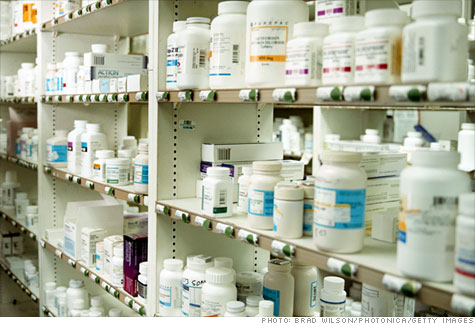 FORTUNE -- Big Pharma faces a host of well-known problems, most notably that its blockbuster drugs are coming off patent at the same time that its pipeline of new drugs has turned into a drip. But the leading pharmaceutical companies like Novartis (NVS), Merck (MRK, Fortune 500) and Bayer are also battling another costly headache -- legal challenges to their existing patents are increasing with the rapidity of a centrifuge.
New data from The Paragraph Four Report shows that the number of lawsuits disputing patents of branded pharmaceuticals increased to more than 230 last year, compared with only 81 in 2005. The challengers, mostly generic manufacturers, are also broadening their attack. While blockbuster drugs with billions in annual sales still make lucrative targets, the generics are now rolling the dice by challenging decades-old patents that have long limped past their golden years.
The reason is that even old drugs can be lucrative. Solvay Pharmaceuticals, for instance, now has a generic challenger gunning for a piece of Teveten, a drug approved in the late 1990s for hypertension with about a 1% market share and just under $200 million in annual sales.
The tug of war over pharmaceutical patents -- the explosion in the number of lawsuits and the counter-measures used by Big Pharma to combat them -- has raised the question of whether government regulations increasingly fail to strike the correct balance between fostering innovation and preserving competition in the pharmaceutical business. This week's U.S. Senate vote to modernize the US Patent and Trademark Office and change how patents are reviewed does nothing to decide the issue either, leaving what both sides agree is billions of dollars at stake.
In theory, the regulatory framework is supposed to provide strong patent protection for innovative drugs while offering incentives to generic manufacturers to attack weak patents. Generic firms who strike first, if successful, are made the exclusive provider of the generic version of the drug for six months.
The winning generic firm can potentially take over as much as 65% of a branded drug's market in the first two months. Professor Matthew Higgins, of the Georgia Institute of Technology, estimates that generic firms spending about $5 million on litigation typically gain about $60 million in additional revenue during the first six months, if successful. Meanwhile, the patent loss costs the innovator drug company about 12% in revenue. He says that an upcoming research paper will show the loss of revenue in the hypertension market alone to be more than $14 billion.
Since generic firms win roughly 70% of all such cases, it is clear why Teva Pharmaceutical Industries (TEVA) would see the logic in its 134 active challenges.
Innovation in the lawyer's office
Some argue that the pharmaceutical firms themselves have brought on the rise in lawsuits. Short on innovation, they try to patent slight modifications, or shades of gray, in order to prevent generic drug makers from offering consumers cheaper alternatives to their existing medicines. "The high rate of patents being held invalid in court proves that our patent office is not doing a good enough job of ensuring patent quality," notes Daniel Ravicher, of the Public Patent Foundation.
But others are concerned that the stark increase in patent challenges signals that the existing law (and the flux in court interpretations of it) may be making it too lucrative for generic drug firms to gamble on a patent attack, while not providing enough protection to innovator drug companies, like Pfizer (PFE, Fortune 500) and Roche. "It's not like these companies are patent trolls," says Yali Friedman, the founder of DrugPatentWatch.com. "They are operating entities that spend hundreds of millions of dollars developing new drugs. "
The big worry is that Big Pharma can't afford a rear-guard attack on its patents at a time when new drug discoveries are in such short supply. While R&D spending has climbed over the last decade, reaching about $1.2 billion per drug from about $230 million in the 1980s, the yield from that expense has been low. The FDA says it approved only 21 new medicines last year, and some companies, like Pfizer, are slashing R&D spending.
The lack of innovation has concerned the Obama administration; in January the National Institute of Health proposed the funding of a billion-dollar drug development center. Scientists in Health Affairs proposed another tact -- by their estimation, giving approved pharmaceuticals the same period of data exclusivity that pesticides currently enjoy (12 years) would increase average lifetime drug revenue by 5% and could result in more than 200 additional drugs approved by 2060.
Generic manufacturers are on the other side of that issue. And critics, such as Kevin Outterson, a health law professor at Boston University, question whether giving large pharmaceutical firms more money would ever be the answer to this R&D drought. "Doubling revenues for buggy whips will no doubt set off a scramble to make more," he quips, noting that such studies fail to address why pharmaceutical innovation has become much less efficient over the past few decades. "We don't hear the tech companies like Apple begging for longer patents," he adds. Outterson argues that smaller firms are the ones developing breakthroughs -- why else would the major pharmaceutical companies be spending millions to acquire them -- and even the NIH beats major pharmaceutical firms in R&D efficiency these days.
New regulations, old problems
Big Pharma isn't banking on a stack of new protections anytime soon, not with the economy still shaky, the cost of Obama's health-care overhaul rising and drug costs a political hot potato. So, it's working the existing system the best it can. In a growing number of epic patent crusades, generics are finding winning to be bittersweet -- by the time the champagne cork has popped, their pharmaceutical opponent has already authorized another agreeable rival to make a generic version of the coveted drug, undercutting the economic advantage the law supposedly offers those first to fight.
In other cases pharmaceutical companies just pay the first-strike generic to go away, a maneuver that also legally forestalls every other generic competitor as well. In 2009, there were 19 settlements in which generic companies explicitly guaranteed delayed entry into the market in return for a monetary payment, quite a rise from 2004, when there were none. Many other settlements avoid the exchange of cash by working out sharing arrangements that help to preserve the monopoly profits for both of the once-battling firms.
The Justice Department has argued against the legality of these pay-to-delay deals, and the Obama Administration has proposed allowing the Federal Trade Commission to stop them. But the U.S. Supreme Court has so far declined to hear any challenges, waving off the latest one earlier this week. Recent FTC research estimates these settlements cost American consumers $3.5 billion per year and protect $20 billion in Big Pharma drug sales.
It's nice money if you can get it, but legal innovation isn't going to put new drugs in the pipeline. And such studied manipulations of the system may be just another example of just how broken it has actually become.