At SXSW, techies search for the next big thing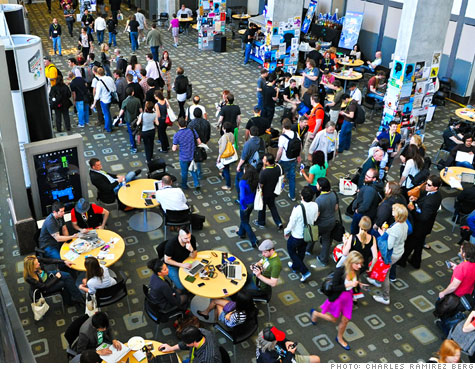 NEW YORK (CNNMoney) -- For the next five days, Austin will be the epicenter of the tech universe.
Friday is the opening day of the city's annual South by Southwest Interactive conference -- an event known for giving tech trends the momentum to hit the masses. Last year, 14,000 people descended on the city for the interactive show, and this year organizers say they expect 30% to 40% more attendees.
The show has developed a reputation as a tech launch pad, thanks to two spectacular case studies: Twitter and Foursquare.
Twitter had been around for nine months by the time SXSW 2007 opened, but its user base skyrocketed after the show. "Networks are all about critical mass," Twitter co-founder Evan Williams wrote in a recent blog post describing the marketing push Twitter made at the show. "Doubling down on the momentum seemed like a good idea. And something clicked."
Two years later, location-based networking service Foursquare pulled off a similar trick, launching its check-in service at SXSW 2009. It now has around 7 million users.
"Every industry needs an event that defines the trend for that year," says entrepreneur Jyri Engeström. "It's [SXSW] where everyone goes to see and be seen, and sets the trends for 2011."
Engeström -- whose last company, microblogging service Jaiku, was acquired by Google -- is one of many entrepreneurs hoping to make a splash at the conference. His new startup, Ditto, allows users to share what they're doing and exchange recommendations.
Austin for the next week will be testing ground for emerging social apps and technologies. And this year, there's an added boost: The iPad 2 hits the stores on opening day. Recognizing that its most rabid fans are all gathered in one spot, Apple is setting up an SXSW pop-up store to cater to the crowds.
"There's no event like it that grabs 10,000 geeks into one city," says tech blogger Robert Scoble says. "You have 10,000 early adopters. Very heavy iPhone users, early Twitter users, very Web savvy."
With hundreds of startups fighting for attention from those early adopters, the battle can get Darwinian.
Last year, rivals Foursquare and Gowalla went head-to-head trying to win users. This year, a gaggle of group texting services are battling to dominate the space.
"The hot thing seems like the group texting -- Yobongo, GroupMe, Beluga for the insider cool kids," Scoble says.
One thing is already clear: For SXSW 2011, any computing device bigger than an iPad is passé. The mobile space has all the buzz.
"Everyone accepts that as the premise," Engeström says. To him, the question is: "Which flavor of mobile social is it going to be? Is it going to be the group messaging services, or is it still going to be about Twitter or Foursquare?
Stay tuned.
CNNMoney will have complete coverage of the SXSW 2011 at cnnmoney.com/sxsw and at @cnnmoneytech on Twitter. For all of CNN's SXSW coverage, follow @CNNSXSW.