FDA: Another tainted drug crisis seems inevitable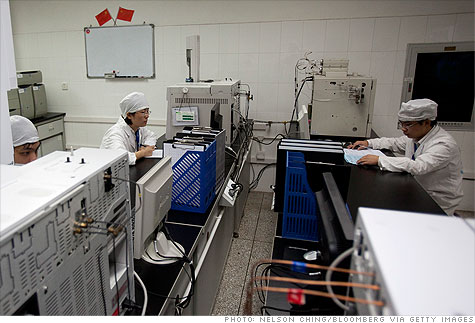 NEW YORK (CNNMoney) -- A senior Food and Drug Administration regulator warned that another public health crisis may be inevitable because the agency can't guarantee the safety of many drugs and food products manufactured overseas.
"The safety of America's food and medical products is under serious challenge," John Taylor, FDA's acting principal deputy commissioner, said Monday.
He said the safety agency must reinvent itself to operate more effectively globally, or "another public health crisis like Heparin seems inevitable."
In 2008, contaminants in Heparin, a blood thinner being produced in China, led to more than 100 deaths in the United States.
The FDA is responsible for overseeing the safety and manufacturing quality of food, drugs, medical devices, vaccines, cosmetics and tobacco products.
Speaking at the Pew Health Group conference in Washington D.C., Taylor said the FDA can't keep up with how quickly manufacturing has shifted overseas.
Decades ago, Taylor said the agency had a better grip on ensuring the safety of those products because most of them were made in the United States.
But today, he said, the agency is crippled in its mission to protect the health of Americans since a lot of medicine sold in the U.S. is made abroad and outside of strict FDA oversight.
40% of drugs consumed in the United States are imported, while 80% of the ingredients used in U.S. drugs come from other countries.
And food imports have grown on average 10% each year for at least 7 years, he said.
"Today, there are more than 130,000 importers of record and more than 300 ports of entry in the United States," he said.
Taylor said the FDA's difficulty in monitoring imports is also leading to more counterfeit and adulterated products entering the U.S.
One recent high-profile incident was the contaminated Heparin from China that killed more than 140 people in the United States. Other incidents include toothpaste from China containing Diethylene Glycol -- used in antifreeze -- counterfeit Lipitor from Central America and counterfeit glucose monitor test strips.
The next few years, he said, are critical for the agency to transform itself to adapt to the global challenges.
Taylor provided a glimpse of what he called the FDA's "global strategy and action plan."
Among his key points: the FDA will partner with its foreign counterparts to create a global coalition of regulators; it will boost intelligence gathering and the agency will encourage consumers and the private sector to help in its efforts.
"Regulators cannot do it alone," said Taylor.