Half of U.S. nuclear reactors over 30 years old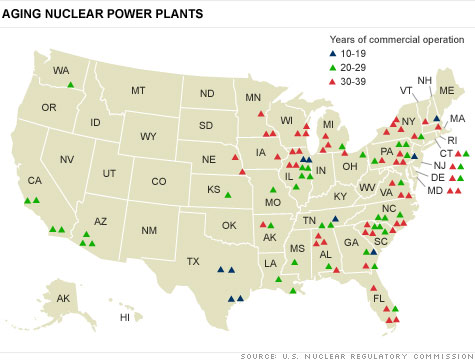 NEW YORK (CNNMoney) -- Half of the nation's 104 nuclear reactors are over 30 years old, according to the U.S. Nuclear Regulatory Commission. Most of the remaining reactors are at least 20 years old.
Originally granted licenses to operate for 40 years, most of the country's reactors have applied for a 20-year extension. Sixty-two extensions have been granted so far, and 20 are still pending, according to the industry group the Nuclear Energy Institute.
From the perspective of the utilities that run them, the reactors -- most of which are paid off -- provide massive amounts of cheap power with no greenhouse gas emissions. The United States gets about 20% of its electricity from nuclear power plants.
But for critics, explosions at several Japanese reactors following a crippling earthquake and tsunami is proof that the old plants in the U.S. should be shut.
"If a plant was operating for a certain period of time, what assurances do we have that it's mechanically sound," said Ira Helfand, a board member at Physicians for Social Responsibility. "Given what's happened in Japan, do we really want nuclear plants operating here?"
Of particular concern are the 23 reactors in the United States that are of the same design as the ones currently failing in Japan -- the General Electric Mark 1.
Most Mark 1's came online between 1972 and 1978, making them nearly 40 years old.
Critics say its containment box is too small and its walls are too thin. They also say the waste storage pools, situated several stories above the ground over the main reactor and outside a key containment vessel, are vulnerable to terrorist attack or meltdown.
General Electric (GE, Fortune 500) issued a statement Monday saying its design is safe.
"The reactor is the industry's workhorse with a proven track record of safety and reliability for more than 40 years," the company said, noting there are over 32 such reactors operating worldwide. "There has never been a breach of a Mark 1 containment system."
It was unclear how that statement reconciles with the events in Japan, where radiation is being detected outside a Mark 1 reactor, although at mostly low levels.
David Brenner, director of the Center for Radiological Research at Columbia University, told CNN he thinks "at this point in time, there's no real evidence that there are health risks to the general population."
But besides age and design worries there's also a more general concern among critics: They say the NRC inspection process for getting a license extension is too lax.
"They'd relicense the Chicago Pile," said Jim Riccio, a nuclear policy analyst at Greenpeace, referring to the world's first nuclear reactor built under the bleachers at a University of Chicago stadium that lacked any cooling device or radiation barrier.
Critics want the NRC to allow issues like the allegedly thin containment walls on the Mark 1 to be considered when a license extension is granted. Currently, they say those issues are not taken into consideration.
If the licenses must be extended, they want a plant shut for three to six months to conduct a thorough inspection.
The NRC did not respond to repeated requests for comment. A recording on its media line said the agency was being inundated with calls relating to the crisis in Japan.
But a spokesman at Vermont Yankee, a Mark 1 plant that recently received a license extension, said the inspection process was vigilant.
Spokesman Jerry Smith acknowledged that fairly recently the plant was leaking radioactive water into the ground, but said the leak was detected and repaired within 40 days.
Smith said the NRC spent five years reviewing the plant's physical structure for a total of 30,000 inspection hours.
He noted that nearly all the equipment has been replaced at the facility, open since 1972, with $400 million invested in just the past decade.
The licenses were only granted for 40 years, he said, because that was the longest federal license available. Other large infrastructure projects, like hydroelectric dams, also have 40 year licenses, he said, even though some of them have been around for nearly a century.
"It's not a matter of years," said Smith, "it's the material condition."
Steve Kerekes, a spokesman for the Nuclear Energy Institute, said it isn't clear that the issues the Japanese plants are facing are due to age. It was the tsunami, and the level of safety systems that were built to protect the plant, that's causing the problems.
Building nuclear plants: Expensive and daunting
Before the recession, electricity demand was growing in the United States, and it's expected to grow 20% in the next 20 years, according to the U.S. Energy Information Administration.
But it's increasingly difficult and costly to build new power stations, especially nuclear ones.
The Obama administration has fully endorsed nuclear power, and has allocated billions in loan guarantees to help the industry build new plants.
Energy Secretary Stephen Chu, himself a Nobel Prize-winning physicist, sought to reassure the public Tuesday that the country's nuclear plants are safe.
"The American people should have full confidence that the United States has rigorous safety regulations in place to ensure that our nuclear power is generated safely and responsibly," said Chu, according to the text of his prepared testimony before a House subcommittee.
But for critics of nuclear power, the ideal situation would be to have all U.S. plants closed.
The lost power, they say, could be made up from natural gas in the short term and sources like wind or solar in the future.
"There are always vulnerabilities," said Michael Mariotte, head of the Nuclear Information and Resource Service, a watchdog group. "We think there area better ways to produce electricity."