Texans still really want new nuclear plant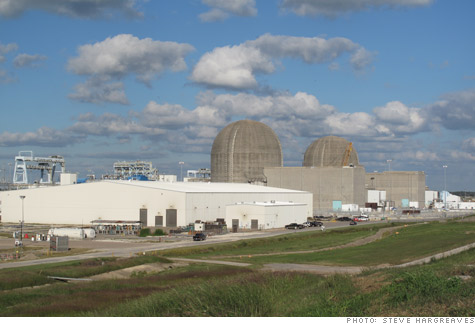 NEW YORK (CNNMoney) -- Residents of a Texas town located just miles from the proposed expansion of a nuclear power plant say they still want the project greenlighted, despite the crisis unfolding in Japan.
Eighty miles southeast of Houston, utility company NRG wants to expand its nuclear facility from two reactors to four. No new nuclear plant has won final approval in the United States since the Three Mile Island accident in 1979, although site work is being done at a couple of locations around the country.
Less than 20 miles from the NRG (NRG, Fortune 500) plant lies the town of Bay City, where many people work at the power plant and hope an expansion would mean more jobs.
"It's getting to be really hard with three kids," Sally Delk, a 29-year-old Bay City resident who's getting her associates degree to become a nuclear technician, said Wednesday. "If they don't add to that plant, I may not be able to get a job here."
CNNMoney last spoke with Delk in late 2009 while doing a story on the proposed expansion.
Then, Delk was working a minimum wage job at a local restaurant, the Dairy King, to support her family. She was hoping the $15- to $20-an-hour job at the nuclear plant would make things a lot easier.
Now she's unemployed, going to school full time, and is on track to graduate in December.
She says the fear of an accident at the plant is always in the back of her mind, but that it doesn't do any good to worry about something she can't control.
Plus, she believes in nuclear power.
"It's green," she said, referring to the fact that it doesn't emit greenhouse gases. "And as long as it's controlled in a safe environment, it's fine."
Last time CNNMoney visited Bay City we heard much the same story: A couple of citizens were concerned that the money the plant brings in was blinding the town to its dangers, but overall the vast majority of people favored an expansion at the plant.
The fact that the Japanese plant Fukushima Daiichi is already leaking radiation into the environment and could face a full-blown meltdown does not seem to scare the people of Bay City about the power plant in their own backyard.
While supporters say the Bay City plant's design is more robust than the ones stricken in Japan, it does generate electricity in basically the same way. And in the case of a catastrophic event, it could be subject to the risk of a meltdown.
But County Judge Nate McDonald, the county's highest elected official and its emergency management director, said people have not been inquiring about the plant's safety or what government officials would do in the event of a disaster.
"I haven't had one call," said McDonald. "Zero."
What does have people concerned: the economic effects.
"The biggest fear is that this is putting a chill on the nuclear renaissance," said Richard Knapik, who was mayor of Bay City until last June.
NRG has been trying to line up the necessary permits and funding to expand the plant for the last couple of years. For now, it's a wait-and-see situation.
Building the plant would take years, and bring an influx of construction workers.
"Folks are looking forward to people coming into town to build stuff," said Knapik, who now works in sales at Bay City Plumbing Supply.
Until then, Knapik said a planned shopping center and apartment complex in town has been put on hold.

The plant itself already employs 1,200 people. Although Bay City is close to Gulf area refineries and petrochemical plants, the addition of another 1,200 jobs would be a big deal for a town of 18,000.
The town's exposure to other big industrial facilities may be putting the residents a bit more at ease with the proposed expansion at the nuclear plant.
"There's a certain amount of risk with any of these," said Kay Cihal, a retired homemaker who raised five children in the Bay City area. "But that's what we rely on for energy now. I would still support it."