Libya attacks spark fight over cost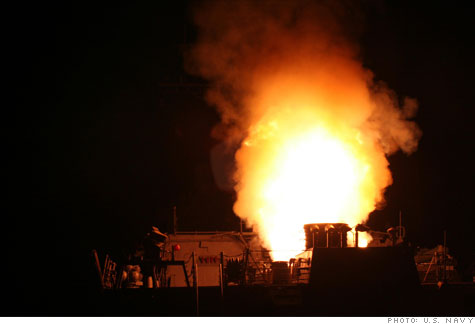 WASHINGTON (CNNMoney) -- With the tab already running into the hundreds of millions of dollars, the U.S. military intervention in Libya has sparked a debate over funding.
To date, the United States has spent some $225 million firing Tomahawk missiles, according to CNN estimates based on U.S. Navy figures.
The cost could reach up to $800 million to fully establish the no-fly zone and another $100 million a week to maintain it going forward, said Zack Cooper, a senior analyst for the Center for Strategic and Budgetary Assessments.
Even with spending out of favor in Washington, defense costs remain among the most controversial in the debate over how to reduce deficits.
Defense spending, in inflation adjusted terms, is higher than at any time since the end of World War II, and the United States now spends six times as much as China, the country with the next biggest budget. (Video: CNN's Richard Quest interviews security policy expert)
To pay part of the tab for intervention in Libya, the United States is hoping to lean on other nations, especially oil rich Persian Gulf countries that have indicated financial support, according to a top State Department official who testified before Congress last week.
The costs are mounting. The price tag to replace the fighter jet that went down Tuesday with a top model could run between $100 million and $150 million, Cooper said. And fuel prices for each jet runs $10,000 an hour.
The Pentagon said it's not able to give an official cost estimate so far. The Obama administration says it is funding operations in Libya from existing budgets. The current budget for war spending is about $150 billion.
"We are not planning to request a [budget] supplemental at this time," said Kenneth Baer, spokesman for the Office of Management and Budget.
But at some point, the Pentagon may be forced to ask Congress for extra money. And several lawmakers on the left and right told CNN on Tuesday that they do not think the United States can afford the intervention.
"Not only has Congress not authorized military strikes in Libya, as the Constitution requires, but also the cost to American taxpayers will be substantial," said Rep. Justin Amash, a Michigan Republican. "We cannot spend money we don't have on a war we don't need."
Rep. Jason Chaffetz, a Utah Republican, said he would press for cuts elsewhere if asked to pony up for U.S. involvement in Libya. "You're going to have to find those dollars somewhere else in the budget," he said.
On the other side of the aisle, Rep. Dennis Kucinich, an Ohio Democrat, said Tuesday that he would try to block federal dollars from going to military operations in Libya.
"We have already spent trillions of dollars on the wars in Iraq and Afghanistan, both of which descended into unwinnable quagmires," Kucinich said in a statement. "Now, the president is plunging the United States into yet another war we cannot afford."
President Obama has stressed since the start of the operation that the intervention in Libya would be brief. "Let me emphasize that we anticipate this transition to take place in a matter of days and not a matter of weeks," he said Monday.
Indeed, the exact price for U.S. taxpayers will turn on how long the no-fly zone lasts and how much other nations chip in.
"It gets down to the what they refer to as the ship steaming hours," said Tina Jonas, a former Pentagon comptroller. "So how many naval ships have we got in the region? How many aircraft are flying off those ships? What additional military may be deployed to the area?"
- CNN's Dana Bash, Jennifer Rizzo, Ted Barrett, Deirdre Walsh and Xuan Thai contributed to this report.