Apple's iPad 2 supply concerns mount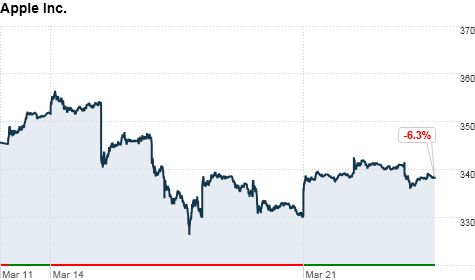 NEW YORK (CNNMoney) -- The crisis in Japan may make the already impossible-to-get iPad 2 even more difficult to find.
The earthquake, tsunami and aftershocks have halted or delayed production of many components that are found in the iPad 2, including NAND Flash memory, touch screens, image sensors, batteries and the special resins that are used to hold chipsets together.
Shares of Apple (AAPL, Fortune 500) have fallen more than 5% since the massive earthquake two weeks ago.
Japanese suppliers are responsible for 35% of the world's NAND Flash production, according to IHS iSuppli, and Japan is the world's leading source of semiconductor and LCD manufacturing equipment, according to DisplaySearch.
Global supply constraints have been exacerbated by rolling blackouts, which remain a problem in some areas. Experts also say many production facilities won't be able to go online until the aftershocks stop.
With wait times for iPads stretching to four to five weeks in the United States, investors have begun to worry about Apple's ability to keep up with customers' demand. The tablet is also still on track to go on sale in the international community on Friday.
As early adopters well know, Apple has dealt with supply constraints before. The iPhone 4 faced delays for months after its launch, and the original iPad was also difficult to come by.
So it was no surprise that the iPad 2 shipping times quickly went from three-to-five-days to three-to-four-weeks and now to as much as five weeks. Steve Jobs said in a statement that the iPad 2 has experienced "amazing demand in the U.S."
Analysts note that investors are usually wiling to forgive supply constraints (though not demand constraints). But the impact of the Japan crisis will be felt in a little less than a month, according to FBR Capital Markets. That could make delays even worse and more difficult for investors to stomach.
"Apple always has supply constraints with its in-demand products, but now there are more broadband concerns about every component from the simple to the most advanced ones," said Colin Gillis, analyst at BGC partners. "The story's not over; we have to keep watching this."
As demand for components grows, analysts note that they will almost certainly rise in cost. That could hurt Apple's profit margins.
Still, Gillis noted that Apple benefited from good timing: The quarter is about to close, meaning the company's quarterly numbers won't likely suffer too much from the crisis. When supply chain constraints hit hardest in the next few weeks, the company will still have the rest of next quarter to make up for it.
Other analysts seemed even less concerned. "Apple is at risk," said Brian White, analyst at Ticonderoga Securities. "At the same time, Apple has enough pull in the supply chain ... to get more than its fair share of supplier output."