Postal Service: 7,500 workers, $20,000 buyouts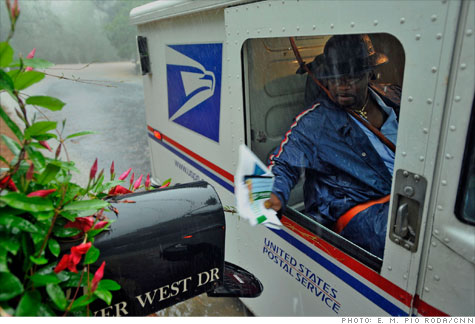 NEW YORK (CNNMoney) -- The Postal Service is offering a $20,000 buyout to thousands of veteran workers as part of its bid to eliminate 7,500 administrative jobs, the agency announced Thursday.
The struggling agency also announced plans to shutter seven district offices.
The seven offices that are closing are Columbus, South East Michigan, Northern Illinois, South East New England, South Georgia, Big Sky and Albuquerque.
There are 421 jobs spread across the seven offices, a postal service spokeswoman said. Eligible administrative employees will be offered the buyout package -- letter carriers and other union workers are not eligible.
The postmaster first announced plans to cut 7,500 positions in January, but it wasn't clear where those jobs would be cut, or when. The buyout offer is designed to entice workers to leave the workforce.
Each year, about 20,000 Postal Service workers retire or leave their jobs. But many of those positions are filled. By eliminating 7,500 administrative positions over the next year, the Postal Service should be able to accelerate the shrinking of its workforce.
Employees must be 50 years old, with at least 20 years of service, or any age with at least 25 years of service to qualify.
"I am confident that we have developed a strong plan that takes a key step toward a leaner and less bureaucratic structure," Postmaster General Patrick Donahoe said in a statement.
But with more than 500,000 employees, the cuts are a drop in the bucket
Struggling with a decrease in mail volume, the agency said its net loss totaled $8.5 billion in 2010. That compares to a loss of $3.8 billion the prior year.
When fully implemented, the Postal Service estimates the cuts will lead to about $750 million in annual savings.
"It's critical that we adjust our workforce to match America's changing communications trends as mail volumes continue to decline," Donahoe said.
The agency also plans to close as many 2,000 post offices over the next year, which will mean 2,000 fewer postmasters on the job. The agency has not yet identified which post offices will be closed.
Already, the agency estimates it has saved $9 billion over the past two years. Those savings came primarily from the elimination of 105,000 full-time positions.
The organization has also asked Congress to allow it to scale back to five-day delivery, cutting Saturdays, and to discontinue its "unique" requirement to pre-fund its retirement fund -- something no other federal agency is required to do.