Household wealth down 23% in 2 years - Fed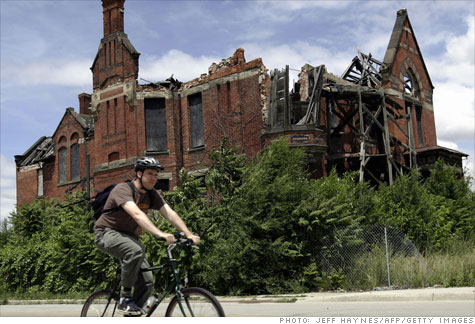 NEW YORK (CNNMoney) -- The average American family's household net worth declined 23% between 2007 and 2009, the Federal Reserve said Thursday.
A rare survey of U.S. households, first performed in 2007 but repeated in 2009 in order to gauge the effects of the recession, reveals the median net worth of households fell from $125,000 in 2007 to $96,000 in 2009.
Titled "Surveying the Aftermath of the Storm," the report offers a broad look at how the financial crisis impacted individual households.
It is widely known that the 2008 financial crisis resulted in the vaporization of trillions of dollars in household wealth. But Federal Reserve officials said Thursday the new report offers a look at exactly how hard the recession hit families, and how they reacted.
The numbers paint a stark picture.
Families that owned stock saw their portfolios drop by more than a third to $12,000 from $18,500, on average. The value of primary real estate holdings decreased by an average of $18,700.
And families took on more debt, pushing median total debt levels to $75,600 from $70,300. They also made less money. Median household income dropped to $49,800 from $50,100.
Interestingly, families below the median national income in 2007 actually saw their earnings increase by 2009. Meanwhile, families that started above the national average in 2007 saw their incomes decline.
Families in the top 10% of net worth in 2007 saw their incomes decline by 13% on average, a phenomenon the Fed attributed to large declines in capital gains and in business, farm or self-employment income.
The report also reveals that some families are doing quite well.
"Although over 60% of families saw their wealth decline over the two-year period, a sizable fraction of households experienced gains in wealth," the report says.
But it's hard to pin down what made those families successful. "Shifts in wealth do not appear to be correlated in a simple way with families' characteristics," the authors write.
The report's authors also make the point that Americans appear to be reacting to the recession in a counterproductive way.
"[F]amilies' behavior may act in some ways as a brake on reviving the economy in the short run," the report says.
The data shows that Americans have increased their savings rate across the board, regardless of how they are weathering the storm. That means less money is being pumped into the economy.