Finding the value in being wrong
FORTUNE -- Those optimistic about the nation's economic future (and count me as one) look to a litany of American characteristics that presage its revival: our comfort with risk and reinvention, a national confidence buoyed by short-term memory, even individual greed and bit of wishful thinking.
A new book by New York Times consumer columnist Alina Tugend throws a new twist to that picture by pointing out an American shortcoming: Our resistance to confronting mistakes -- and learning from them -- before they turn into catastrophic blunders.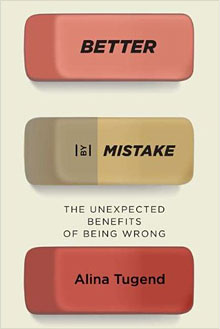 The message of Better by Mistake: The Unexpected Benefits of Being Wrong is cultural, not economic. But it's a timely one coming this month -- the third anniversary of the collapse of Bear Stearns, which kicked off a financial crisis that continues to haunt the lives of more than 13 million unemployed Americans.
Modern Americans -- shaped by raucous politics and a rapacious media --like to think of themselves as experts in confronting mistakes. Reality shows serve up juicy drama out of human shortcomings. Politicians know (or are quickly reminded) that they can't move on from bad misbehavior unless and until they issue the "grand apology."
Washington, in particular, has a boastful history of investigating the mistakes behind a crisis -- through congressional hearings and presidential commissions -- and building bureaucracies designed to thwart them in the future. It often comes up short: One can only hope the Homeland Security Department -- a product of intelligence failures leading to 9/11 -- is better at protecting us against terrorist attacks than it was at protecting a coastline population after Hurricane Katrina.
A new bureaucracy, moreover, isn't even an indicator that there is political consensus about the mistakes behind a crisis: The congressionally-created Financial Crisis Inquiry Commission not only issued its report on the causes of the 2008 economic collapse after Congress had already passed sweeping banking reforms last year, its greatest revelation turns out to be the extent of disagreement over what those root causes actually were.
The business community has no shortage of books and consultancies offering advice on how to turn the lemons of errors into a lemonade of better business practices (think Motorola's (MOT, Fortune 500) famed Six Sigma manufacturing system or the double-loop learning of Harvard's Chris Argyris, which is designed to ferret out the underlying values that lead to mistakes). Even with all that, the financial sector played a starring role in the nation's economic collapse.
Tugend cites studies showing that despite all these best intentions on the part of organizations to learn from mistakes, it has proven "difficult to implement" in general -- and "all but impossible" when much is at stake. Tugend's research shows we spend a shocking amount of time and energy justifying our blunders, rather than owning up to them and learning needed lessons before moving on.
"All too often mistakes are treated as something shameful that should be flung aside as quickly as possible, rather than something to be examined and learned from," she writes. As a result, there is widespread failure to "uncover system problems."
Our pride is tied up in being right. We tend to favor data that confirm our beliefs so we don't see alternatives. Too often leaders practice defense routines that become self-reinforcing.
There is also a cultural bias toward ability rather than effort, infused from an early age, when children are praised for being "smart" rather than doing a good job. Errors in schoolwork are treated as failures rather than an index of what still needs to be learned -- in sharp contrast to the Chinese and Japanese teaching styles, according to a UCLA study.
Take this up the ranks of American business and we end up with a Wall Street talent system that worships (and therefore is too trusting of) individual brilliance. It creates, Tugend notes, a fixed mindset among people who won't admit or correct their deficiencies.
It's odd, as she points out, that Americans embrace the notion that innate talent trumps mistake-making perseverance. That quintessentially American narrative, the Horatio Alger tale, makes the opposite case: With diligence and hard work, anyone can climb to the top. Or as Albert Einstein famously said, "Anyone who has never made a mistake has never tried anything new."
We like to think that a free market's greatest strength is its self-corrective nature. But as America struggles to climb out from the canyon of economic collapse, it's worth asking how both government and businesses can hold themselves to the same standard that Warren Buffett set for himself in his 2009 statement to shareholders: "During 2008 I did some dumb things in investments. I made at least one major mistake of commission and several lesser ones that also hurt. Furthermore I made some errors of omission, sucking my thumb when new facts came in that should have caused me to reexamine my thinking and promptly take action."
Those are the kinds of words we need to hear more of in boardrooms -- and in Washington.