Tax cheats: Single, young and male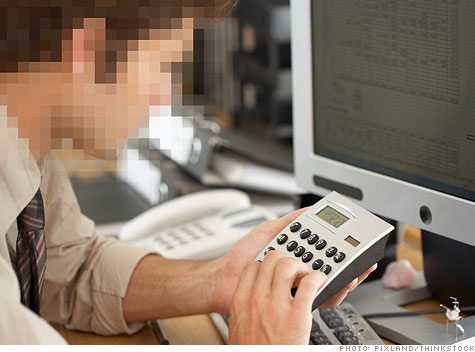 NEW YORK (CNNMoney) -- The typical American tax cheat is male, single and under the age of 45.
At least that's what an annual survey by DDB Worldwide Communications Group found.
"The overall characteristics of this particular minority group are surprising -- and in some cases, a little unsettling," DDB concluded.
While only 15% of Americans surveyed fessed up to fudging their tax returns, 64% of those people were men, according to the survey of consumer attitudes and behavior. Thirty-five percent were single (47% when including people who have been divorced or widowed), and 55% were under the age of 45.
These percentages were all significantly higher for the self-proclaimed cheaters than for the non-cheaters, indicating that Americans who cheat on their taxes are much more likely to fall into these three categories than those who don't, the survey found.
Many cheaters also try to justify their behavior. Far more tax cheats said they are 'overall better people' and that they are 'special and deserve to be treated that way', compared to the people who said they don't cheat.
And it's not just taxes that they are dishonest about.
"Their willingness to cheat is not limited to their taxes but spans a wide range of situations and behavior where they are looking to get away with something," said James Lou, U.S. chief strategist at DDB.
While 73% of cheaters admitted to working a job under the table, only 20% of non-cheaters did. Self-proclaimed cheaters are also much more likely to keep the wrong change given to them by a cashier, to ask a friend to pretend to be a former boss for a reference check and to lie about their income to qualify for government aid.
Many of them also said they would wear an outfit once and return it, file false insurance claims, keep money they see someone drop on the floor, or lie about finding something inappropriate in their food just to get a free meal.
Tax cheaters are even more likely to steal money from a child. The survey found that while only 3% of non-cheaters would ever take money from their child's piggy bank, 28% of cheaters said they would.
"While it's understandable that no one likes to pay taxes, we were surprised to find that tax cheaters' overall willingness to engage in other unethical and illegal behavior is perhaps justified simply by their belief that they are special and deserve special treatment," said Lou.
In addition, most tax cheats are also likely to be splurgers -- with 45% of them identifying themselves as "spenders rather than savers" compared to 32% of non-cheaters.
And the cheating isn't limited to either the rich or the poor. The survey found that people who cheat on their taxes generally have the same income levels as those who don't.