11.4% of all U.S. homes are vacant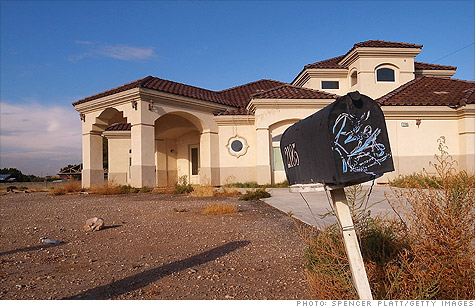 NEW YORK (CNNMoney) -- There is a correction on this story.
High residential vacancies are killing many housing markets, as foreclosed homes sit on the market and depress sale prices and property values.
The national vacancy rate at 11.4% according to a release Tuesday from the Census Bureau.
"Vacant homes equal more downward pressure on home prices," said Brad Hunter, chief economist for Metrostudy, a real estate information provider.
Maine had the highest proportion of empty housing stock, at 22.8%. Other states with gluts of empty houses included Vermont (20.5%), Florida (17.5%), Arizona (16.3%) and Alaska (15.9%).
The way the census calculates the vacancy rates, however, is problematic. It includes properties such as ski lodges, beach houses and pied-à-terres that many real estate statisticians would not.
These are often summer homes or second homes, but census lumps them together with homes that have been sold but not occupied, empty homes for sale or rent, and homes used by migrant workers. Basically, anything other than a primary residence is considered vacant.
"You can only live in one home," said William Chapin of the Census Bureau's Housing Statistics Branch. "If you own five homes that you occasionally live in, four of them will be counted as vacant."
But Paul Bishop, the vice president for research for the National Association of Realtors, countered that these properties aren't vacant in the usual sense of the term. "A vacation home is hardly the same situation as a foreclosed home that has been taken back by the bank," he said.
In Maine, more than two-thirds of the 160,000 vacancies were vacation homes in 2009; Vermont had a similarly high concentration.
Compare them with Connecticut, which has a vacancy rate of just 7.9%, the lowest of all the states. If you back out the vacation properties from the statistics, the states have very similar vacancy rates: 6.1% for Connecticut and 7% for Maine.
Some states have high vacancy rates even after backing out the second homes: Florida's is about 10%; Arizona's is 10.7%; and Nevada's 11.4%.
Besides Connecticut, the other states with lowest vacancy rates are California, Iowa, Illinois, Virginia and Washington, all at 9.2% or lower.
The original version of this story incorrectly stated the vacancy rate. We regret the error.