Balanced budget amendment: 'Irresponsible'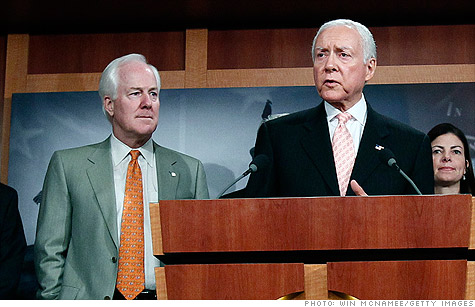 NEW YORK (CNNMoney) -- In a time of record debt, it sure sounds prudent: Amend the U.S. Constitution to force Congress to balance the budget every year. In reality, it may be anything but.
More than a dozen leading Republican senators are co-sponsoring a bill that would require a balanced budget; cap spending below the historical average; and require a supermajority of lawmakers to approve tax hikes or most increases to the debt ceiling.
Co-sponsors Orrin Hatch and John Cornyn noted earlier this year that the annual deficit is more than 10 times what it was in 1997, when the Senate came close to approving another balanced budget amendment.
"Millions of working families across the country balance their checks every year; their government should do the same," they wrote in a letter to colleagues.
But the wisdom of bringing such an amendment to a vote is more political than fiscal.
"Voters would then know, with very stark clarity, who is for a balanced budget and who is not, and it could have a big impact on the 2012 elections," Cornyn told the conservative publication Human Events last week.
Indeed, the chances of the amendment coming to fruition are near nil.
For any constitutional amendment to make the grade, two-thirds of the House and the Senate must vote in favor; and then at least 38 states need to ratify it. No wonder only 27 amendments have been added to the Constitution since it was ratified in 1788.
But even if the voting hurdles weren't so high, the proposal raises substantive concerns.
Given the fiscal shortfalls on tap, achieving a balanced budget under such parameters would be rather Herculean.
Lawmakers can always choose to alter the country's fiscal path for better or worse. But on its current course, the federal government could wrack up deficits averaging $674 billion to $950 billion a year over the next decade, according to Congressional Budget Office projections.
Lawmakers wouldn't necessarily need to cut spending by those amounts to balance the budget. That's because the sooner lawmakers start to cut, the greater the interest savings over time and the less they would have to cut in subsequent years.
But even after accounting for interest savings, it's reasonable to assume that lawmakers would end up needing to cut several hundred billion every year all the same. That's especially likely since the amendment wouldn't require a balanced budget until five years after ratification, at which point annual deficits will have grown worse.
Striving to achieve a balanced budget by way of a constitutional amendment would be "irresponsible," according to one seasoned congressional observer.
"It is about the most irresponsible action imaginable," said Norman Ornstein, a resident scholar at the conservative American Enterprise Institute. "It would virtually ensure that an economic downturn would end up as a deep depression, by erasing any real ability of the government to pursue countercyclical fiscal policies and in fact demanding the opposite, at the worst possible time."
The liberal-leaning Center on Budget and Policy Priorities said essentially the same thing, noting in a recent report how a balanced budget amendment coupled with a rigid cap on spending would prevent automatic stabilizers from working.
The point of such stabilizers -- such as unemployment benefits, which automatically expand when the economy weakens -- is to help maintain Americans' purchasing power in tough times, the report notes.
The amendment does provide a number of exceptions to the balanced budget and spending cap requirements. For instance, if a supermajority of lawmakers approves, Congress could run a "specific" deficit in a given year or exceed the spending cap by a "specific" amount.
But those supermajorities could be hard to rally until after a recession takes hold, CBPP notes.
"Even then, determined minorities could resist voting to lift the spending cap or balanced budget requirement, or might demand destructive measures -- potentially including new, permanent tax cuts that increase deficits and ultimately necessitate even deeper budget cuts -- as the price for their votes."
Alice Rivlin, a federal budget expert who sat on President Obama's debt commission, said an amendment to balance the budget is not a "useful goal."
And the proposal's spending cap of 18% of gross domestic product is too low, Rivlin said.
"Keeping spending at 18 percent of GDP is not feasible when we have a huge generation of baby boomers moving into retirement, longevity is increasing, and medical costs are high and rising."