Michigan cuts jobless benefits by 6 weeks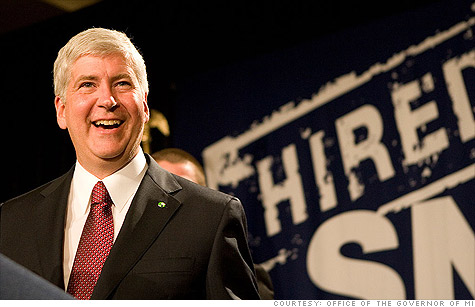 NEW YORK (CNNMoney) -- Michigan has reduced unemployment benefits, with Gov. Rick Snyder signing into law a bill cutting the payouts by six weeks.
Snyder signed the bill late Monday, cutting extended benefits to workers to 20 weeks from 26 weeks.
A growing number of states are looking to cut back on jobless benefits to minimize the increase in unemployment taxes businesses pay . State officials are concerned that these tax hikes could deter companies from hiring.
The tab businesses will pay is likely to grow. The surge in unemployment over the past three years has forced many states to wipe out their own funds for benefits and borrow from a federal pool. Some 32 states owe $45.7 billion to the federal fund.
Snyder, in a statement announcing the signing, said the law was necessary to maintain benefits for about 35,000 Michigan workers. He said that, as of April 1, Michigan would have no longer qualified under federal programs allowing states with high unemployment to pay extended benefits.
"These benefits are a lifeline for many Michigan families who are struggling in this challenging economy," Snyder said. "Cutting them off so abruptly would have jeopardized the well-being of those who are trying hard to find work.

--CNNMoney senior writer Tami Luhby contributed to this report.