Elizabeth Warren's olive branch to Big Business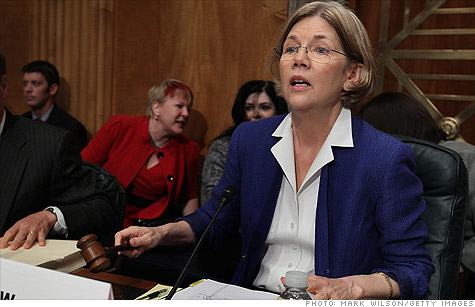 WASHINGTON (CNNMoney) -- Elizabeth Warren extended an olive branch Wednesday to the group that has been her arch-nemesis in creating a new consumer financial protection bureau.
Speaking before a U.S. Chamber of Commerce conference in Washington, Warren talked about a point common ground shared with the chamber - seeing competitive markets flourish.
"I know this won't come as a shock to you, but the Chamber and I have not always seen eye-to-eye on issues," Warren said in prepared remarks released to the news media. "But I do not consider myself in hostile territory right now because I believe we share a point of principle: competitive markets are good for consumers and for businesses."
Warren, a Harvard University professor and outspoken consumer advocate, is working as an adviser at the Treasury Department to set up the new Consumer Financial Protection Bureau. The new independent agency is in charge of regulating financial products such as mortgages and credit cards on behalf of consumers.
The U.S. Chamber of Commerce invited Warren to speak at their Fifth Annual Capital Markets Summit, even as the group continues to push for narrower government regulation on financial products. The Chamber spent millions on TV commercials and lobbying in a campaign to "kill" the consumer bureau during debates over what became the Dodd-Frank Act.
Warren said the bureau can help markets work more efficiently by targeting fine print and overly long contract agreements.
"The role of regulation in credit markets is, at its heart, to make it easy for consumers to see what they are getting and to make it easy for customers to compare one product with another, so that markets can function effectively," Warren said.
She'll add that having a "cop on the beat" allows "honest competition to flourish."
Warren's speech at the Chamber follows several others she's made to business groups ranging from the Financial Services Roundtable to the Independent Community Bankers Association since starting her gig at Treasury.
She has also been busy playing defense against a new round of criticisms launched at the consumer bureau by House Republicans seeking to limit its power and funding.
During her speech at the U.S. Chamber, Warren reiterated her defense against those attacking the new bureau as too powerful, saying "there are plenty of checks in place on the new consumer agency."
"The CFPB is the only bank regulator -- and perhaps the only agency anywhere in government -- whose rules can be overruled by a group of other agencies," Warren said, referring to a newly created panel of regulators called the Financial Stability Oversight Board, which can overturn consumer bureau rules with a two-thirds vote. "This is an extraordinary restraint."
After Warren left the chamber -- in a hurry, greeting no one and taking no questions -- Chamber president Tom Donohue spoke about his concerns that the bureau's powers are too broad and could cause "collateral damage to those who are obeying the rules."
He said he's in favor of a House GOPe proposal to replace the job of leading the new bureau with a five-person panel.
"We think a bipartisan five-person commission would provide a lot more balance and accountability in the bureau's management than a single powerful director," Donohue said.