Mothers against the Diablo Canyon reactor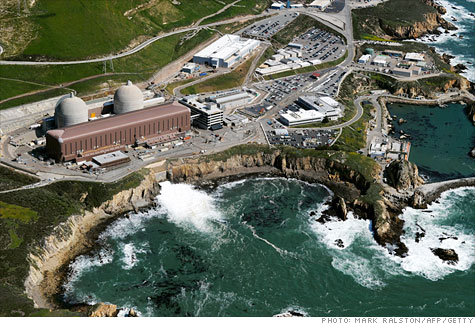 FORTUNE -- Seventy-two year old grandmother Liz Apfelberg woke up to news of the earthquake and tsunami hitting northern Japan on March 11th. In the days following the disaster she was glued to the TV in her California home, watching as workers at the Fukushima plant scrambled to avert nuclear catastrophe. It was as if they were actors in her own prophecy, an ocean away. The power outage, the fires, the radioactive steam, the confused messages of evacuation -- all of it was just as she had predicted.
"Diablo," she said to herself as she watched the disaster unfold.
Apfelberg is one of a small group of women who has spent the last 40 years fighting to close down the Diablo Canyon reactor, one of two nuclear power plants in California. Operated by Pacific Gas & Electric (PCG, Fortune 500), Diablo sits just south of her hometown of San Luis Obispo, on the outskirts of the picturesque harbor town Avila Beach. On a cliff above the Pacific, Diablo consists of two massive, orb-shaped reactors that churn out energy for about three million homes in the state. It also rests on arguably very shaky ground: Diablo is within a sixty-mile radius of three major fault lines, including the Hosgri fault just 2.5 miles away.
Apfelberg and her organization, Mothers for Peace, have warned against exactly the kind of scenario playing out across in the Pacific in Fukushima. A week after the earthquake in Japan, Apfelberg was furious, ready for a fight with the utility all over again.
"We know that PG&E has been cited by the Nuclear Regulatory Commission [NRC] for maintenance problems with getting off-sight power, and with the emergency cooling, and the spent fuel pools," she said matter-of-factly, her compact frame in fight position, even as she sat down to lunch one day last week. "We are energized. We can't let the utilities say it can't happen here -- that our plants are different, that our earthquake faults are different. It can happen here."
Her concerns are shared. That day the Physicians for Social Responsibility, a national organization of doctors that have spent half a century decrying the effects of nuclear, issued a statement asking, in part, that all nuclear plants on fault lines be shut down until a full safety review could be conducted. Dr. Robert Gould, the president of PSR's San Francisco chapter, said Diablo should be closed.
"It's not worth the risk," Gould says. "There are very large threats to human survival posed by nuclear. I don't think it's a good idea to build nuclear power plants in a geologically unstable state. The more we dig deep into this we find out more and more about what we don't know." Senators Barbara Boxer and Dianne Feinstein also joined in the call, asking the NRC to take another look at both of California's nuclear plants ability to withstand a major earthquake.
Apfelberg has a certain can-do conviction that seems very much of another time -- a time when a group of local mothers could face off against a major utility and think they might win. A native New Yorker, Apfelberg moved to San Luis Obispo 40 years ago when her husband got a job at Cal Poly. A high school biology teacher and a mother of two, Apfelberg was something of a joiner in the 1970s, so when she saw an ad in the local paper announcing the meeting of an anti-war group called Mothers For Peace, she decided to go.
There she met a dozen women -- all mothers -- who wore blue jeans and drank tea and talked about ways they could stop the war in Vietnam. She spent her spare time picketing and leafleting but as the war came to an end, something much closer to home caught the group's attention. PG&E announced plans to open a nuclear power plant 10 miles outside of San Luis Obispo.
The Mothers, as they called themselves, became immersed in studies of nuclear radiation and its effects as well as the intricacies of the NRC's appellate system. They would meet in the evenings, after their children went to bed. If they couldn't get their husbands to babysit, they'd bring them along. "You don't have to be a nuclear scientist to educate yourself," says Apfelberg. "We were intelligent people and we did it."
A 40-year fight
In 1973, on behalf of the group, Apfelberg and her friend became official intervenors in the plant's licensing proceedings. They wrote a letter to the NRC enumerating the dangers of nuclear power in general and the Diablo canyon location in particular. Their general concerns were quickly dismissed, but the specific concerns about Diablo -- its proximity to the fault lines, and its single narrow canyon road evacuation route -- caught the council's attention and gave the Mothers grounds for a fight.
That fight lasted nearly a decade. Funded by bake sales and bolstered by a pro bono legal team, the Mothers managed to help stall the opening of the plant for years as the legal wrangling made its way through the courts. A few women left to start the Abalone Alliance, which used illegal protest and picketing to bring the story of Diablo to the national stage. A massive protest in 1980 against the plant attracted the likes of Jane Fonda, Jackson Browne and Wavy Gravy, but it didn't make a difference. Apfelberg and many others were arrested, including her husband and her son. Former (and future) Governor Jerry Brown also joined in, filing paperwork protesting the opening. It was all for naught. "We thought we could change things by ourselves," says Apfelberg. "We were naïve."
The plant opened in 1981 and the first reactor went on line in 1984. But Apfelberg and the Mothers for Peace have remained active, appearing at public hearings, and recently trying to fight PG&E's upcoming plans to renew the plant's operating license for another 20 years.
While Armageddon hasn't come to Avila Beach, Apfelberg said that she has felt the negative effects of living downwind of the plant. She wonders if the cancer that has metastasized from her breasts to her liver and her bones isn't somehow connected. A quarter of the dozen women who make up Mothers for Peace now have cancer, says Apfelberg. "At this time it's stupid to say I told you so," says Apfelberg, with a sad smile. But she did. "What we say is that we have to use what's happening now to stop it from happening again, to stop Diablo."
When I ask Apfelberg why she's stayed, why she lives just minutes away from something that she believes is so dangerous, she at first hedges the question. "All my friends are here, all my organizations are here," she says. "It's possible I could go some place that doesn't have a nuclear power plant, but there's all the other things that we do have. But those are all excuses because I love it here. And at this point I'd rather stay here and fight PG&E. As long as they keep going, we'll keep going. It's not as if this is our last act, by any stretch of the imagination."