Tech stars plan City Slickers-style cattle drive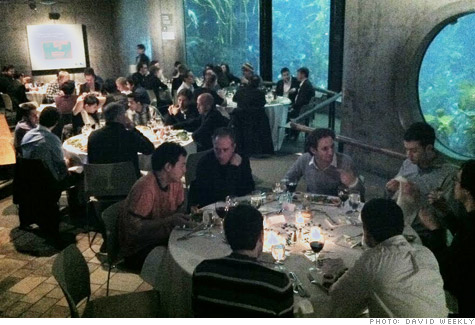 NEW YORK (CNNMoney) -- Francisco Dao is over it.
He's been a part of the upstart tech scene for years, and he's seen art of the personal connection disappear. TED has gotten way too big, South by Southwest is "barbecue and everyone f---ing pitching each other," and Dao is just ... over it.
This sense of disillusionment led Dao to leave his post as events producer for Twiistup, whose blowout parties have become a fixture in the West Coast startup scene. Upon his exit last September, Dao pronounced the conference model "broken" -- and proposed a fix in the form of his own venture.
It's called 50 Kings, and Dao touts it as "a new VIP conference model." It's based on three strict rules: no pitching, no snitching and no snobbery.
True to its name, events are limited to 50 members of the tech and media community. Attendees must apply or be referred for an invitation to one of the three or so events Dao plans to throw annually.
But these gatherings are no run-of-the-mill conferences. Instead, Dao is currently organizing a cattle drive (à la "City Slickers") and a pirate war. Seriously.
"The growth of events tends to spoil them," Dao says. "The point is to feel like you're on vacation with your closest friends. You can't do that with 1,000 people."
Who makes the list: Dao is "fanatical" about screening attendees. If applicants say they'll call Dao for the required phone interview, they have an eight-minute window. If they don't call within that timeframe, they're written off.
Once at the 50Kings event, no one is allowed to break the trinity of rules. Entrepreneurs can't pitch the VCs milling about; there is to be no snitching (as in Vegas, what happens here stays here); and no one can act holier-than-thou.
The adventure half of the equation is where Dao gets philosophical. He's intensely interested in sociology, and he waxes poetic about "tribal rites of passage" and the bonding experiences of yore.
"People used to bond by going to war together -- now big companies do the trust fall thing. It's like, are you f---ing kidding me?" Dao laughs.
And so, a cattle drive. Dao's friend Sarah Prevette, the founder of startup guide Sprouter, suggested the idea last summer. He spent months researching possible locales before deciding on a ranch in the Sierra Nevada mountains.
From May 24 to 27, techies will mount horses and herd cattle over a three-mile stretch along the California-Nevada border. Dao is still finalizing the attendee list, which will include O'Reilly Media founder Tim O'Reilly.
"I'm intrigued. This sounds a bit like Foo Camp on horseback. How could I miss it?" O'Reilly says. "I never thought someone would have the guts to do a cattle drive for a tech/investor crowd."
There are definitely some obstacles to overcome.
"Some of these guys are short -- it'll take them 15 tries to get onto the horse," Dao says. "It's admittedly wacky, but people will never forget this event for the rest of their lives. The point isn't the horses or the cows; it's the campfire conversations at night."
The first 50Kings event: Dao is hoping to build on the momentum from his inaugural 50Kings event, at which attendees gathered to watch the 2011 TED conference from the comfort of a Monterey, Calif., hotel. Attendees perched on beanbags, playing cards and watching the TED talks on a projection screen.
The event itself was free, though attendees forked over the cash for their hotel rooms.
One of the TED retreat's most enthusiastic participants was at first the most skeptical. John Frankel, founder of early-stage venture fund ff Asset Management, was confused by the 50-person limit -- and he told Dao so.
"He e-mailed me saying, 'If I spend a half hour with each person, I'll be done with everyone by the second day,'" Dao says. "I was like, 'Dude. John. That's not how it works.'"
Despite his misgivings, Frankel flew across the country for the event -- and as soon as he landed in San Francisco, he received an e-mail about a meeting in New York that week that he couldn't miss.
"By the end of the first day I decided it was so fun, with so much energy, that I had to come back," Frankel says. "So I booked a redeye back to Manhattan and a return trip to California for as soon as my meeting was over."
Frankel was so tired on the drive back to Monterey that he was swerving, which promptly got him pulled over by a police officer.
"It was a ton of travel, but I'd do it again in a heartbeat," Frankel says. "It met a need that's really important. People need to spend time with people. There is no replacement for sitting down with someone and looking them in the eye."
Another TED retreat attendee, CommerceBid founder Liron Petrushka, says he was relieved to forgo the "craziness" of TED for beanbags and a small group.
"Looking at the conference on screen, it just seemed like a mess," Petrushka says. "So many of these events have become a zoo. At 50Kings I got to network without the exhausting hustle and bustle."
Petrushka says he was "impressed" with the TED retreat, though he wished there were a way to unplug everyone from their smartphones and iPads.
"It's all tech people, so it's to be expected," he says. "But it can remove you from the situation you're in."
Thinking small: Petrushka notes that Dao modeled 50Kings off David Hornik's invite-only conference The Lobby, which he started at 100 people and is now struggling to keep below 200.
"Once these events get publicized, it's hard to keep them small," Frankel says. "About 50 is a great number, but if it grows to more than 150, it's a different type of event."
Both Frankel and Petrushka suspect that Dao may increase the guest list to more than 50 in the future, for financial purposes.
But for his part, Dao insists 50Kings will stick to its roots: "If I wanted to make money, I wouldn't limit it to 50 people. Not everything has to grow."