Win back your car on 'Repo Games'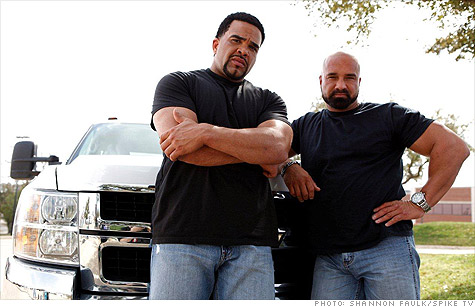 NEW YORK (CNNMoney) -- "Repo Games," a reality television show from Spike TV that allows debtors a chance to win back their repossessed cars, will hit the airwaves later this month.
"This is the only show that combines the game-show format with actual repos," said producer Sally Ann Salsano, "On the show, we give them a chance to win their car back, clean and simple. No car payments ever again."
She explained that debtors on the show are "not thrilled" when they discover their repossessed cars hooked up to a tow truck, as a video crew captures their reaction. But they brighten a bit, she says, when they realize they've got a fighting chance to get their car back, with all debts paid off, if they successfully answer three out of five trivia questions.
"This could be a terrible situation, but this could also be your lucky day," she said.
The trivia questions, she said, range from food and drink to science, pop culture, movies, technology and other topics.
Salsano of 495 Productions will debut this show April 26, right on the heels of "Jersey Shore," a reality show that recently wrapped up its third season on MTV, which owns Spike TV.
As one of the producers of "Jersey Shore," Salsano lived in the show's beach house where the crew filmed her ne'er-do-well roommates -- the stars of the show -- as they lounged around all day, got drunk in clubs, argued about trivialities and attempted to score with like-minded members of the opposite sex.
The stars of "Repo Games" are, as might be expected, actual repo men. Josh Lewis and Tom DeTone are real-life professionals who repossess cars for a living. They're not actors, which sets them apart from Emilio Estevez and Harry Dean Stanton, who starred in the 1980s cult flick "Repo Man."
Spike TV filmed Lewis and DeTone as they repossessed 80 cars in Los Angeles and Dallas.
"Tom is the big muscle guy, but he's a total softie on the inside," said Salsano. "Josh razzes with the people a little bit. They both have a heart of gold and they've both been repoing cars for years."
In their off-camera repos, the debtors are out of luck. But in their on-camera repos, Lewis and DeTone are the ones who pose trivia questions to the winners and losers.
"They feel like they're giving people a chance," said Salsano.