The resurgence of San Diego's Little Italy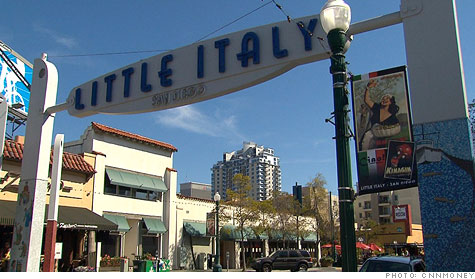 SAN DIEGO (CNNMoney) -- Walk down Little Italy's main drag and you see coffee-sipping window shoppers brush past old Italian men relaxing in the spotless piazza. New businesses keep popping up, the restaurants are packed and condo construction is in full swing here in downtown San Diego.
From the outside, it's easy to forget this is cash-strapped California, where Gov. Jerry Brown has slashed billions of dollars in public services since taking office. Or San Diego, a city whose mayor is looking for ways to close a $56 million budget gap by the end of June.
Little Italy has been picking up the slack where the city falls short for more than a decade.
But it wasn't always that way.
"All the beautiful flowers, and the pots, the street banners that are hanging on the lamp posts -- none of that stuff was here," said Marianna Brunetto, whose family has lived in the neighborhood for more than ninety years.
Seafood had always been king in Little Italy, with most residents making their living fishing for tuna or processing and serving it. But in the 1970s that business started drying up. At the same time, a new highway went up in San Diego, which isolated the neighborhood and displaced residents. The local economy began to crumble.
By the mid-'80s, only about a dozen Italian-owned businesses remained and the face of the neighborhood had faded.
"All the canneries and all the tuna seiners had to move from San Diego to Thailand, Taiwan. It displaced that economy in Little Italy," said Marco Li Mandri, executive director of the Little Italy Association.
"We were basically the parking lot for buildings downtown," he added.
To stop the tide of neglect, local business owners came together to create a public benefit corporation in 1996. Known as the Little Italy Association, the group works to improve the area -- everything from trimming the trees and emptying public trash cans to sweeping sidewalks and addressing off-leash dog runs.
"Little Italy employees manage Little Italy like a mall company would manage a mall," said Li Mandri. "They deal with the curb to property line."
Public benefit corporations such as this one have been established across the country, including in Oakland, Calif., and San Francisco, in an attempt to revitalize neighborhoods. But San Diego's Little Italy is one of the best examples of their successes.
The LIA operates on a $1.5 million annual budget made up of money collected from property and business assessment fees, parking meter funds, special events and private sources.
Little Italy also relies on California's Redevelopment Agencies, something the governor has proposed to eliminate in the coming months. If that happens, major projects in Little Italy, like repairing the 100-year old sidewalks, would not be completed.
"In the next five years, the impact will likely be around $2 million in lost funding, for projects which were in the planning stages," said Li Mandri.
While Li Mandri searches for other means of funding, Little Italy employees and residents continue to maintain the neighborhood and that keeps drawing people in.
"I'd seen all of the improvements and I really wanted to be a part of that," said Brunetto, who recently moved back to the old neighborhood and is now on the association's board of directors. "I wanted to ensure that Little Italy was around for my children and my grandchildren the way it was for me growing up."