Amazon offers cheaper Kindle -- with ads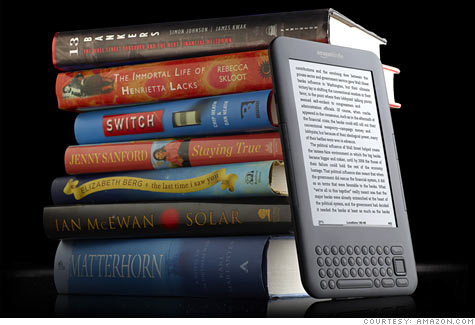 NEW YORK (CNNMoney) -- Would you buy a Kindle with on-screen ads in order to knock $25 off the price? Amazon hopes so.
The company announced its new "Kindle with Special Offers" on Monday, which will begin shipping May 3. Pre-ordering is available immediately.
The ad-festooned Kindle will sell for $114, which is $25 less than its ad-free counterpart, Amazon's $139 Kindle Wi-Fi. The Kindle 3G is available for $189.
The Kindle's "special offers" and ads will appear on the e-reader's screensaver and at the bottom of its home screen. Amazon plans to mix together advertisements from launch sponsors including Buick, Olay and Visa with daily-deal style discount coupons.
Some of the discounts Amazon plans to offer in the initial weeks include a $20 Amazon gift card for $10 (a deal that was a monster hit when Amazon offered it earlier this year through LivingSocial), plus discounts on Amazon MP3 albums, Audible books and Kindle bestsellers.
Amazon (AMZN, Fortune 500) is also introducing an app called AdMash, which will let customers vote on potential future sponsored screensavers.
Amazon has never revealed sales figures for the Kindle. Price cuts late last year brought the most basic version down to $139, and Kindle apps are now available for a wide variety of devices -- including the iPhone, iPad as well as BlackBerry and Android phones.
But the Kindle seems to be doing well despite competition from e-readers including the Barnes & Noble (BKS, Fortune 500) Nook, the Sony (SNE) Reader and Kobo from Borders (BGP), as well as Apple's (AAPL, Fortune 500) multipurpose iPad.
Analysts expect the e-reader market to really catch fire when the price tag for the device drops below $100. Amazon implied that it's trying to get there.
"We're working hard to make sure that anyone who wants a Kindle can afford one," Amazon CEO Jeff Bezos said in a prepared statement.