$4 gas is coming to your state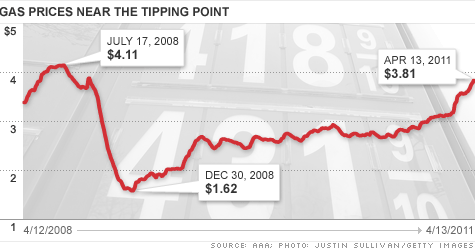 NEW YORK (CNNMoney) -- Gas prices have been spiking for weeks and $4 gas is quickly becoming a reality across the nation.
Illinois became the latest state to succumb, with motorist group AAA reporting Tuesday that the average price for a gallon of gas in the state had hit $4.03 a gallon. On Wednesday, the average price in Illinois nudged up to $4.04 a gallon.
There are now four U.S. states with gas prices above what many economists consider a 'tipping point' for consumers. Prices in California, Alaska and Hawaii have been above $4 a gallon for weeks.
As of Wednesday, the national average stood at $3.81 a gallon. While that's still below the $4 mark, prices are up 24% from the start of the year.
A big culprit behind the surge has been oil. While gas prices typically start to rise at this time of year, $100 oil isn't helping.
Based on current oil prices, there is a 33% chance that the national average gas price could hit $4 a gallon in July, said the Energy Information Administration in its April short-term energy outlook.
But the EIA isn't ringing the $4 panic bell just yet, calling for gas prices to average $3.86 a gallon this summer. That would still translate into a whopping 40% rise from last summer.
Prices haven't averaged $4 a gallon nationwide since July 2008. But many economists are already predicting the national average will top that level during the peak driving months from April to August.
"Prices are most likely going to hit $4 per gallon this summer," said Chris Christopher, senior economist at IHS Global Insight.
That's bad news for consumers, who have spent the last few years paying down debt but are still hamstrung by the weak job market and falling home prices. It's also alarming because consumer spending is the main driver of economic activity in the United States, said Christopher.
"Consumers are not in a very good position right now coming out of a deep recession," he said. "We're trying to get traction here with this anemic recovery, and rising gas prices are the last thing the American consumer needs."
IHS Global recently estimated that a sustained $10 increase in oil prices, which corresponds to a 25 cent rise in gas prices, could drive consumers' energy bills $25 billion higher this year. That could have a jarring ripple effect on the job market, with IHS estimating job losses of 270,000 as businesses look for ways to cope with higher input costs, the group estimated.
All of that combined could cut U.S. economic growth by 0.4% in 2011, according to the IHS study.
"There is definitely a substantial impact to headline growth," said Sam Bullard, a senior economist at Wells Fargo.
Bullard acknowledged that the job market has shown some signs of improvement this year, and that credit is easier to obtain for many households. But he described the rise in gas prices as a tax on Americans, which has largely negated the federal payroll tax holiday enacted late last year.