Cisco kills Flip, cuts 550 workers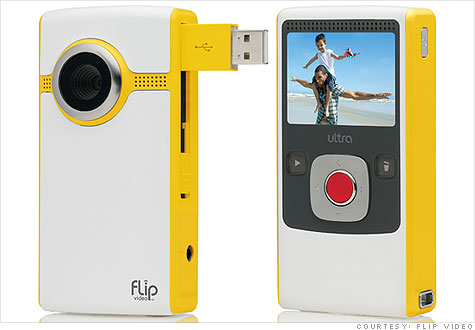 NEW YORK (CNNMoney) -- Cisco announced Tuesday that it is exiting several consumer businesses, including Flip, and laying off 550 employees.
The networking giant said its new strategy is to serve most consumers indirectly through its business customers, rather than making products that shoppers buy straight from Cisco.
As part of its new focus, Cisco (CSCO, Fortune 500) is abandoning Flip, the digital video camera company it bought in March 2009 for nearly $600 million.
Growing sales of smartphones with HD video cameras means the need for single-use devices is fading. Flip's sales last quarter grew 15% year-over-year, but Cisco had expected them to grow 30%.
Rather than sell the company off, Cisco is simply shutting down Flip. Most analysts agreed that was a smart decision, since it would be difficult to integrate the camera's technology into other companies' consumer electronics products. The product is a cult hit, but a tricky business fit.
"To some extent, Flip was never worth anything to begin with," said Alex Henderson, analyst at Miller, Tabak & Co. "If you look at that product, it's a fairly trivial solution and not easy to scale. It's not a business model most would like to be a part of, never mind pay a premium for."
Cisco also made some other changes to its consumer line. Umi, the HD video chat device aimed at consumers, will become part of Cisco's business telepresence product line. Though the device was critically praised, it was simply too expensive for most buyers to justify purchasing, and analysts say big box retailers didn't know how to sell it to consumers.
The company's popular Linksys and Valet Internet routers will continue to be sold at retailers, but Cisco's Home Networking division, of which the routers are a part, will be refocused around the company's core businesses, including supporting video in the home.
The new focus mostly represents an internal streamlining intended to make the business profitable, Cisco said. It doesn't expect the overhaul to affect consumers.
"We are making key, targeted moves as we align operations in support of our network-centric platform strategy," Cisco CEO John Chambers said in a prepared statement. "As we move forward, our consumer efforts will focus on how we help our enterprise and service provider customers optimize and expand their offerings for consumers, and help ensure the network's ability to deliver on those offerings."
As a result of the changes, the company will eliminate 550 positions in the next three months, most of which will come from the Flip division. The networking giant said it will take up to a $300 million charge for the divestitures and layoffs in the current and subsequent quarters.
Shares were flat Tuesday, but analysts said investors will welcome the changes.
"This is positive because Cisco will now return to a focus on its core competencies," said Catharine Trebnick, analyst at Avian Securities. "The Flip acquisition was unusual from the start. Cisco said there would be a push-pull effect on the network, but that turned out to be a tough sell."
Others said Cisco should have left the consumer business a long time ago, and wished the company had gone further in its divestitures. Consumer product sales represent just 2% of Cisco's overall revenues, and they fell 15% last quarter.
"The Street never fell in love with Cisco's consumer strategy and the Flip product line was the epitome of this disdain," said Brian White, analyst at Ticonderoga Securities.
The restructuring is part of the company's larger attempt to clarify its increasingly confusing role in the tech world. The company has struggled to grow in recent quarters, and Chambers' tone has been increasingly pessimistic.
In a memo to employees last week, Chambers wrote that the company would take "bold steps" and make "tough decisions."
"Our market is in transition, and our company is in transition," Chambers said. "And the time is right to define this transition for ourselves and our industry. It's time for focus."
He added: "We will address with surgical precision what we need to fix in our portfolio and what we need to better enable."