Obama: I'll cut $4 trillion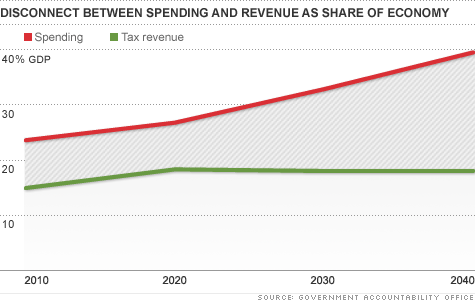 NEW YORK (CNNMoney) -- It was more than the naysayers were expecting, but likely less than what many deficit hawks had hoped.
President Obama on Wednesday articulated his most ambitious plan yet for reining in the nation's debt. He laid down a series of spending and deficit targets for lawmakers to adhere to in the coming decades -- and summoned congressional leaders to take part in a budget summit in early May.
A number of his proposals echo in whole or in part recommendations put forth by his bipartisan debt commission, which completed its work in December.
Obama also laid out additional savings on top of what would be achieved by freezing non-security discretionary spending in his 2012 budget request.
And, as predicted, he called for the Bush-era tax cuts to expire for the wealthy but more broadly called for the individual tax code to be overhauled.
Before offering any proposals, he made the case for why debt reduction is critical.
"By 2025, the amount of taxes we currently pay will only be enough to finance our health care programs, Social Security, and the interest we owe on our debt. That's it," he said. "Every other national priority -- education, transportation, even national security -- will have to be paid for with borrowed money." (Running the government on 8 cents)
His vision for deficit reduction, he said, is "a vision where we live within our means while still investing in our future; where everyone makes sacrifices but no one bears all the burden; where we provide a basic measure of security for our citizens and rising opportunity for our children."
Here's a look at some of the highlights from the president's debt-reduction framework.
Tackling the debt
Cut deficits by $4 trillion over 12 years: That's two years longer than what his debt commission's recommendations would achieve.
But like the commission, the White House estimates that spending would account for the bulk of deficit reduction. Obama says he wants $3 in spending cuts for every $1 in additional tax revenue. (Take the CNNMoney deficit quiz)
He also said he supports a "debt failsafe" trigger that would be activated if Congress fails to enact fiscally sound budgets. His target: Annual deficits that are no more than 2.8% of GDP, on average, starting in the second half of this decade. Of late, annual deficits have been close to 10%.
If by 2014, the projected total debt as a percentage of the economy is not shown to be on a downward trajectory by the end of the decade, the measure would trigger an across-the-board spending reduction in most parts of the budget and among the many tax breaks that are akin to spending.
Three areas would be exempt from the trigger: Social Security, Medicare benefits and low-income programs.
It's not clear where debt held by the public as a share of GDP would end up by 2023. Currently it's on track to top 100%, up from 62%.
Convene a budget summit: Obama, perhaps heeding repeated calls from Senate Budget Chairman Kent Conrad, will ask congressional leaders from both parties to designate four members from their caucus to participate in negotiations led by Vice President Biden.
The goal of the negotiations, to start in early May, will be to come up with a legislative framework for comprehensive debt reduction.
That's two weeks before the country's borrowing is scheduled to hit its debt limit, which many conservatives have said they will not raise unless there are serious actions taken to reduce deficits.
And it comes around the time that the bipartisan Gang of Six may release a debt-reduction bill that they've been working on, which is based on the recommendations of the president's debt commission.
Obama called on lawmakers to reach final agreement on a plan by the end of June.
Drive down spending
Obama proposed building on the $38 billion in spending cuts for fiscal year 2011 that Congress will vote on this week.
Among his suggestions: Cut non-security spending over the next decade in a manner recommended by his debt commission. The commission set 2012 non-security spending at 2011 levels, and by 2020, would allocate only slightly more than the 2012 amount.
Obama estimates that his proposal would save an additional $200 billion over the $400 billion five-year freeze in non-security discretionary spending he proposed in his 2012 budget request. (The voters are ready for debt reduction. Is Washington)
He also is calling for growth in base security spending to remain below inflation, which the White House estimates would save $400 billion over the next 12 years. That's less in savings than his debt commission achieved.
What appears to be absent from his proposals is a call to cap federal spending at a share of GDP after a certain point. His commission recommended an eventual cap of 21% of GDP.
Overhaul taxes
As expected, the president called for the expiration of the Bush-era tax cuts for the wealthy. He approved their two-year extension last December to ensure other provisions were maintained to protect the middle class, he said. But, he added, "I refuse to renew them again."
He may not be faced with such a choice again because he also proposed a future in which those tax cuts would be irrelevant for everyone. He lent his support to the idea of reforming the individual tax code in a way that reduces tax breaks in order to pay for the cost of lowering tax rates and reducing the deficit.
A White House fact sheet stressed that the new code would have to be "simpler, fairer and not rigged in favor of those who can afford lawyers and accountants to game it."
Under any tax reform there will always be individual winners and losers. But what's not clear is whether Obama would support tax reform that ends up raising additional revenue in aggregate from Americans making less than $250,000.
Control health care costs
Relative to the estimated savings that would be achieved by the new health reform law, the president said he will propose an additional $480 billion in savings by 2023 ($340 billion of which would be realized in the next decade). He further estimates the proposal would save an additional $1 trillion in the second decade.
The savings would come by "reducing waste, increasing accountability, promoting efficiency and improving the quality of care" in Medicare and Medicaid, according to the White House fact sheet.
The proposals to achieve them include a cap in the growth of Medicare spending per beneficiary, to GDP plus half a percent. Currently, the per-beneficiary cost is set to soar from $12,000 a year today to more than $44,000 by 2040.
His debt commission proposed capping growth in total federal health spending -- everything from Medicare to health insurance subsidies -- to the rate of economic growth plus 1% after 2020.
In addition, the president's debt-reduction framework would further strengthen the newly created Independent Payment Advisory Board to serve as an enforcer of other cost-saving Medicare reforms.
And like his commission, he's proposed ways to cut unnecessary prescription drug spending.
Strengthen Social Security
Obama made clear that he sides with progressives who assert correctly that Social Security has not contributed to the country's near- and mid-term deficit problems.
But he also noted correctly that the program faces long-term shortfalls and urged both parties to "work together now to strengthen Social Security for future generations."
While he again offered no specifics as to the measures he'd like them to take, he laid out in very general terms what he doesn't want.
"We must do it without putting at risk current retirees, the most vulnerable, or people with disabilities; without slashing benefits for future generations; and without subjecting Americans' guaranteed retirement income to the whims of the stock market."