Restore your winter damaged yard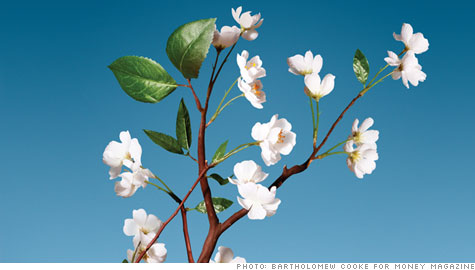 (MONEY Magazine) -- Old Man Winter may have finally blown out of town, but the evidence of his foul temper remains. The harsh storms that battered much of the country -- even places as far south as Atlanta and Dallas -- have left millions of homeowners staring not at the fresh new growth of spring but at broken tree branches, browned shrubs, and sick-looking lawns.
That damage doesn't necessarily mean you'll have to rip out and replace for big bucks. MONEY asked landscape experts for the most cost-effective ways to get your yard back in shape -- an especially pressing concern if you plan to put your house on the market this summer. Their fixes for four common problems follow.
Brown patches
The cause: Rock salt used to melt ice from roads, driveways, and pathways has gotten onto nearby grass or the bottom of shrubs and trees, often sprayed there by passing cars.
The fix: Even if you've already had plenty of rain, give affected areas several good soakings with a hose: The soil needs extra water to dilute the salt. If the brown parts haven't greened up by summer, cut them off.
"Typically the entire plant won't have to go unless it is completely brown," says David Dailey, president of Birchcrest Tree and Landscape in Rochester, N.Y.
The plant is done for? Replace it with a salt-tolerant species; ask a local nursery for recommendations. If grass doesn't survive, scrape away the dead patches and reseed.
The cost: Nothing unless you replace the plant. Young specimens don't cost much. A five-pound bag of grass seed -- enough for spot coverage -- runs about $15.
Broken branches
The cause: The weight of snow or ice -- or high winds -- cracked them.
The fix: Small limbs hanging from ornamental trees or shrubs such as lilacs may heal if you wrap each limb loosely in burlap so that it's touching the spot from which it tore, says Anne Flannery, a Chicago-area horticulturist and landscape designer. (You'll have to leave the wrapping in place until fall.)
Otherwise the branches must go. If they're high enough and thick enough that it will take a ladder and chain saw to remove them, for safety's sake call a certified arborist (find one at isa-arbor.com). Prune lower branches yourself. For trees, cut back to the next healthy limb; for shrubs, cut back to just above a live bud.
The cost: About $100 to $200 for a pro to remove a branch or two on an average-size tree.
Missing bark
The cause: Unable to reach their usual food sources because of deep snow, pests such as rabbits, mice, or voles ate the bark toward the bottom of your shrub or tree. That damage hurts the plant's ability to absorb nutrients, says Barbara Whipple, a horticulturist in Plymouth, Minn.
The fix: Inspect the base of the tree or bush. Are the munch marks limited to one or two places? The plant will likely survive. But when the damage nearly circles the trunk, the victim may not make it. If you're not sure, take a photo of your shrub to your local nursery and ask for an opinion. Ask an arborist whether your tree needs to come down; he can do the job.
The cost: $65 to $75 for an arborist's assessment; $500 to $1,500 to remove each tree.
Unhealthy grass
The cause: If the grass isn't growing, heavy snow buildup could have compacted the soil. And if patches look grayish or pinkish, you could have what's known as snow mold.
The fix: Get oxygen into a dead-looking lawn to generate growth. Do it yourself by using a so-called core aerator machine, which you can rent from your local home center. The fix for snow mold is easy, says Melinda Myers, a Milwaukee horticulturist: Rake the grass lightly and reseed.
The cost: About $60 to rent an aerator for four hours.