BP victim's father: 'You rolled the dice and lost'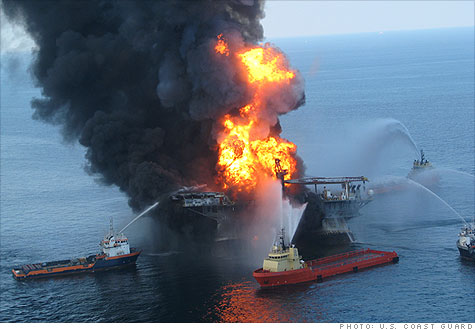 NEW YORK (CNNMoney) -- BP chief executive Bob Dudley on Thursday read aloud the names of the 11 men killed aboard the Deepwater Horizon oil rig last year -- a response to stinging criticism at its annual shareholder meeting that the company was putting profits over safety.
Just prior to Dudley's recital, Antonia Juhasz, an activist shareholder from the Gulf Coast, read a letter written by the father of one of the men killed. She read the letter with the vocal support of many in the audience, and despite an attempt by BP (BP) chairman Carl-Henric Svanberg to cut her off.
"This was no act of God -- BP, Halliburton (HAL, Fortune 500) and Transocean (RIG) could have prevented this," Juhasz said, reading a letter from Keith Jones, the father of Gordon Jones, an engineer on the doomed rig. "But it would have taken more time, more money, and you were too greedy to wait. You rolled the dice with my son's life, and you lost."
Juhasz said in an interview after the meeting that the younger Jones left behind a pregnant wife and a two-year-old son.
Dudley immediately took issue with the woman's statement -- not so much the father's letter but her claim that BP was reckless in its actions and that Gulf remains heavily damaged from the spill.
"Many of your statements sound like they were prepared by a plaintiff's attorney," said Dudley, a comment that was also met with applause from the audience. Audience support for both Dudley and the woman underscored the difficulty BP has had in repairing the damage from the worst oil spill in U.S. history and getting on with the business of finding and producing more oil.
Like the women who read the letter, many shareholders wanted to know what BP is doing to ensure another disaster doesn't happen again.
Dudley outlined several steps the company has taken to revamp its management structure and build safety into everyday operations.
Those steps include tying employees' performance and review evaluations to how effectively they understand and implement safety standards and procedures, enhancing the company's own internal requirements for well safety devices and equipment, and ensuring the proper containment equipment is in place before drilling a well.
"We are working hard to earn back trust," said Dudley. "Through our actions, not just our words."
That was not enough for some.
"Too little information is being provided on how risk is being managed by the board," said Julie Tanner, assistant director of socially responsible investing at Christian Brothers Investment Services. "Given the impact last year's tragedy had on stock price, we want to make sure future events are prevented."
The meeting was interrupted a few times by what appeared to be protests from the audience -- not an uncommon event at shareholder meetings for firms involved in extracting raw materials such as oil.
Dudley noted that one year after the spill, 99% of the Gulf is open for fishing. He also said government testing has consistently found Gulf seafood safe to eat, and that hotel occupancy rates are near historic norms.
Not a lot of oil remains visible in Gulf waters or on its shores. But environmentalists caution that it will take years to understand the true extent of the damage, and say the results of many government studies are being kept under wraps ahead of a legal showdown with BP.
"Some may seize on this as a sign the spill did not have a major impact on the Gulf's marine ecosystem," Frances Beinecke, president of the natural Resources Defense Council, wrote in a recent blog post. "But that would be a dangerous, and false, assumption. A shortage of studies must not be interpreted as an absence of harm."
The economic damage has also been difficult to assess.
Other issues that came up at the shareholder meeting included BP's operations in Canada's oil sands, which some criticized for being environmentally damaging, and the company's plans to partner with Russian oil giant Rosneft.
BP has been seeking to strike a deal with Rosneft to explore potentially lucrative areas in the Arctic, but has run into trouble getting the deal past Russian stakeholders.
BP's stock has recovered considerably since the huge hit it took following last year's disaster, which spewed millions of gallons of oil into the Gulf.
BP shares lost over half their value in the weeks following the spill, going from over $60 a share to under $30 in two weeks. The drop even prompted talk that the world's fourth-largest company could become a takeover target.
They now trade around $45 a share, up more than 50% from lows last May.