Deficit hawks: Not too bad, Mr. President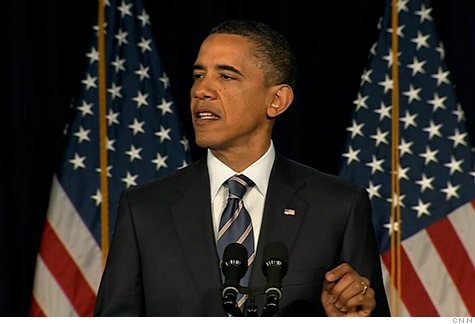 NEW YORK (CNNMoney) -- He may have taken his time to join the brewing debate about how to reduce long-term U.S. debt. But President Obama got some kudos from deficit hawks for the broad debt reduction framework he laid out on Wednesday.
They gave him some incompletes, too. And they found plenty in his ideas that in their eyes needs improvement.
But their praise wasn't empty. That is saying something considering the group has had ample experience banging their heads in frustration whenever anyone running for re-election promises to tackle debt only to offer hollow ideas.
Obama's plan was described as "serious" and "balanced." (Read the speech here)
Tax Policy Center co-director William Gale, economist Diane Rogers of the Concord Coalition and longtime budget expert Stan Collender agreed that the framework Obama laid out will advance the national conversation on reining in debt.
"He's changed the conversation with the plan. It's now about 'what' and 'how' instead of 'if,' " Collender said.
And Obama got credit for signaling that he wants long-term debt reduction to be an urgent priority.
"The White House is showing the courage needed to look at each area of the budget and has now elevated deficit reduction to the top issue for lawmakers to work on together," the Committee for a Responsible Federal Budget said in a statement.
Obama called on congressional leaders to appoint delegates to negotiate a legislative framework for debt reduction and to start as soon as they get back from their spring recess in early May.
That will leave them two weeks before the country is expected to hit its borrowing limit. Many conservatives have said they will withhold support for an increase to the debt ceiling until serious measures are in place that would help reduce deficits.
As pleased -- or maybe relieved is a better word -- as deficit hawks were with the president's speech, they all found things about his framework that come up short.
"The plan itself contains less in savings than the White House Fiscal Commission recommended, which we look at as the minimum of what is needed to reassure credit markets and get our debt levels back on track," CRFB added.
Obama's framework would reduce deficits by $4 trillion over 12 years. His commission made recommendations that would achieve that within 10 years.
On taxes, Rogers likes that Obama embraced the concept of raising more revenue by eliminating or scaling back tax breaks -- which fiscal experts consider spending by another name.
But, she added, "I don't like that he reminds us that he may be severely limiting that strategy by sticking to his campaign promise of no higher taxes on households making below $250,000," she said.