Ads that analyze and target you personally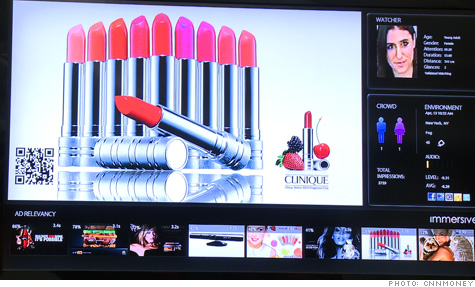 NEW YORK (CNNMoney) -- Imagine an ad that stares back at you when you glance at it -- analyzing your face, your age, and who you're with.
Then imagine that ad going one step further, changing its message to display something its analysis suggests will hook you.
That's what Immersive Labs, a New York City startup launching this week, is trying to do. They've created a prototype of a system that allows ads to analyze their viewers.
The software they attach to digital billboards tracks everything from viewers' demographic profiles -- their age, gender, and estimated attention span -- to how many people they're with and how long they spend viewing the ad.
Walking by a billboard on a chilly day? You might see a hot beverage advertisement. On a stroll with your significant other? That same billboard might instead show you date-themed movies.
It's all part of an effort to personalize ads and make them smarter.
"The real focus is artificial intelligence -- so that ads can learn and improve over time," says Immersive Labs CEO Jason Sosa. "The software may learn that it's better to play a Coca-Cola ad at this time of day, or when the weather's like this."
As the technology gets smarter, advertising is on the brink of evolving, according to David Jones, global CEO of ad agency Havas and Euro RSCG Worldwide.
"What we're going to see is the boring world of retail and the sexy world of digital will come together, and it'll be an unbelievable change," he predicts. "The biggest single revolution that we'll see in digital is all around location based [advertising]."
Immersive Labs isn't the first to explore the interactive frontier. In Germany, if viewers check-in on Foursquare to a GranataPet billboard, the ad will dispense dog food, giving dogs a taste of their product. And in Japan, NEC has tested out advertising billboards with embedded facial-recognition technology.
The big pitch
But Immersive Labs has the ear of industry influencers. The startup emerged from TechStars, an accelerator program that provides mentorship and access to the tech field's movers and shakers.
After getting one of the coveted 11 spots in the program, the crew moved to New York and worked day and night on the technology for the last three months.
"We fit years' worth of contacts and business in a short amount of time," Sosa says. His team includes former Ask.com Director of Technology Alessio Signorini; and Chris Piekarski, who spent eight years at Polycom Corp. as a software engineer.
They're now in talks with more than 40 companies about their technology, and Sony tested it out in New York. One of Immersive's current projects is a digital kiosk deployment at a Hudson News store in John F. Kennedy Airport.
So what about the "creepy factor" associated with ads that use facial recognition technology?
Sosa emphasizes that Immersive's technology doesn't identify individuals -- though the technology to do that exists. But advertisers don't want to freak out their audience. Immersive gathers only "anonymous" information, making judgments about viewers based only on external data.
That's a win for those viewers, Sosa maintains.
"It takes away the noise," he says. "You're not going to get irrelevant ads ant more. You're going to get ads you actually want to see."