The ultimate pitch: 11 startups, 8 minutes, 500 investors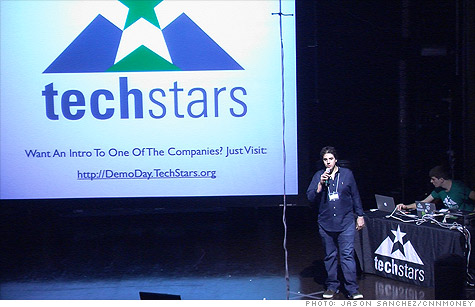 NEW YORK (CNNMoney) -- In an old East Village music hall in downtown New York, more than 500 investors from around the country crowded into a dimly lit auditorium to hear 11 startups pitch.
Those 11 startups were chosen from 600 applications for seed accelerator TechStars first New York City program. The accelerator offers up office space, intensive mentorship from some of tech industry's top figures, and access to many of the field's most prominent investors.
After three months of around-the-clock work -- fueled by 234 pizzas -- they took the stage at Webster Hall to demo their creations.
Several went straight for the jugular.
"I'm about to say what the entire media and publishing industry wants to say," OnSwipe CEO Jason Baptiste announced as he began his pitch. "Apps are bullshit."
Baptiste's software makes it easier for publishers to display content and advertising on touch-enabled devices. For those that don't want to invest in creating apps, OnSwipe gives them the opportunity to reach tablets.
Betaworks CEO John Borthwick is a believer: He was OnSwipe's first user and is investing in the company.
"They're very hungry, and they're very talented HTML5 engineers, so that what they've done is really beautiful," he told CNNMoney after the pitch session."It's ultimately going to be a big business."
Nestio CEO Caren Maio was similarly direct: "We're here today because moving sucks," she declared. Her online real estate information hub aims to make apartment hunting easier.
Several founders emphasized their ventures' leanness.
"We're a small and nimble team, and we love Ramen," Friendslist creator Jonathan Wegener told the crowd. His company is developing a "social classifieds" site that works within networks of friends, like a better-curated version of Craigslist.
For those that impressed, the feedback -- and even funding -- came quickly. Moments after Shelby.tv CEO Reece Pacheco left the stage, he got an e-mail from an audience member offering to invest $200,000 in the company. Shelby.tv integrates Twitter, Tumblr, and a host of other networks to build curated video channels for users.
So -- how about that tech bubble?
Those in TechStars' deep-pocketed crowd insisted they know what they're doing.
"You've got to stick to some rules," said StockTwits CEO Howard Lindzon. "For me, even if there's a bubble going on around me, as long as I stick to rules it's like trading stocks."
Betaworks' Borthwick thinks this go-around is very different than the dot-com boom in the late '90s.
Ten years ago companies were "raising money and spending half of that money on buying billboards in Times Square or Route 10," he said. "There was a lot of hype that really wasn't productive for innovation or company building. That's not happening today."
Brad Feld, managing director at Foundry Group and one of TechStars' co-founders, says he's not that concerned.
"We're early stage investors," he said. "So we know what our entry points are, we don't chase deals, and we don't have to be in all the hot deals."
But he's enjoying the air of excitement: "The level of optimism and enthusiasm for these entrepreneurs, who literally are at the beginning of their journey of creating companies, is stunning," said Feld, whose investment portfolio includes successes like Zynga, FeedBurner and Harmonix.
As TechStars' first NYC crop heads out into the world, director David Tisch is about to begin combing through applications for the program's summer cohort.
As the visibly relieved -- and enthusiastic -- Tisch put it at Demo Day's after-party: "Tomorrow, we start again."