Weak dollar helps to boost IBM sales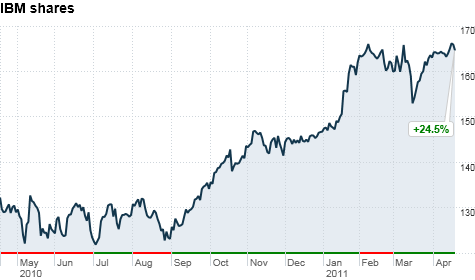 NEW YORK (CNNMoney) -- IBM reported better than expected first quarter earnings Tuesday, and raised its outlook for the rest of 2011, citing strong growth.
The tech giant said its profits for the first quarter rose 10% from last year to $2.9 billion, or $2.31 per share.
Excluding one-time charges, earnings per share were $2.41 a share. Analysts polled by Thomson Reuters had expected earnings of $2.30 per share.
IBM also reported revenue of $24.6 billion, up 8% from a year ago. After adjusting for foreign exchange rates though, sales were only up by 5%. IBM, thanks to its expansive overseas operations, benefits from a weak dollar.
Investors weren't that enthusiastic though. IBM shares fell about 1% in trading after the closing bell.
IBM (IBM, Fortune 500), a component of the blue-chip Dow Jones industrial average, is the world's largest IT company in terms of sales. Wall Street looks to Big Blue's earnings as an indicator of how much businesses are spending on technology.
"We delivered a strong first quarter with revenue growth across hardware, software and services and with more than 40 countries growing in double digits," IBM CEO Samuel Palmisano said in a statement.
That growth led IBM to raise its outlook for the rest of the year. The company now says it expects earnings per share for the year to top $13.15, up from $13.00.
Strong sales in developing markets buoyed IBM, with revenues increasing 26% in Brazil, Russia, India and China. Meanwhile, revenues from Europe, the Middle East and Africa grew only 3%.
Far removed from its days as a struggling PC manufacturer, IBM -- or International Business Machines -- scored a bit of a public relations coup last quarter.
The company's Jeopardy-playing supercomputer, dubbed Watson by its creators, cleaned house against the best players in the world in a televised extravaganza.
The traditionally insulated tech sector has not been immune to the global recession, and faced another big scare earlier this quarter when Japan was rocked by a massive earthquake and tsunami that jeopardized revenue.
After the quake and tsunami, IBM shares took a dive, losing about 5% of their value before mounting a recovery. Around 11% of IBM's revenue results from business in Japan.
CFO Mark Loughridge said during a conference call that because much of IBM's sales from Japan come from its services unit, the company did not "see a big change in the trajectory of business" in the wake of the natural disasters in March.