Madoff trustee wants $43 million more in pay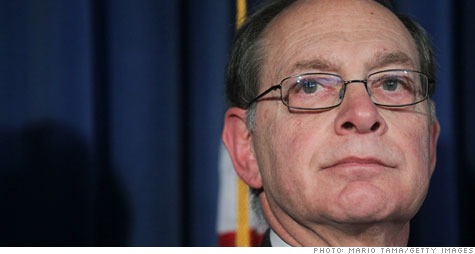 NEW YORK (CNNMoney) -- The lawyers trying to clean up the mess left behind by Bernard Madoff's Ponzi scheme asked a judge for another multi-million dollar payday.
Baker & Hostetler, the firm of court-appointed trustee Irving Picard, put in the request for nearly $43.2 million to cover four months of work ending Jan. 31, according to court documents Monday. The fees must be approved by a federal judge.
Picard's firm has already been paid nearly $128 million -- part of $290 million billed by all of the law firms and consultants working on the case.
Picard himself put in a separate request for about $714,000. He has been paid $3.2 million.
The trustee and his firm are being paid to recover assets that were lost to Madoff's long-running, sweeping pyramid scheme. The trustee has recovered at least half of the $20 billion in estimated losses. He has also sued individuals and companies for allegedly profiting from the scheme, with the suits totaling $100 billion.
The legal fees are paid from money collected by the Securities Investor Protection Corp., which runs an insurance fund financed by Wall Street brokerage firms.
David Paige, chief executive and founder of Sterling Analytics, which analyzes legal fees, said there are "too many attorneys on the case, all with very high average hourly rates."
The documents filed by Picard's firm reveal that the lawyers were paid at a rate of $437.89 per hour, while paralegals and library staff were paid a rate of $250 per hour. Also, the firm outlined $1.1 million in expenses, including $74,000 for copying, $92,000 for local travel, $202,000 for out-of-town travel and nearly $54,000 for business meals.
A spokeswoman for Picard's firm was not immediately available for comment.
The second-largest request is from legal firm Windels Marx Lane & Mittendorf, which billed the court for more than $3 million, followed by Taylor Wessing, special counsel to the trustee, who asked for about $1.5 million.
Nine other firms and lawyers have submitted bills totaling nearly $800,000. Judge Burton Lifland of the Bankruptcy Court in Manhattan will decide whether to approve the bill during a hearing on May 12.
Of the 16,518 investors who filed claims with the trustee as Madoff victims, the trustee has determined that only 2,410 are "allowed," meaning that they are eligible for compensation.
These victims are eligible for about $6.8 billion in total compensation, including the $793 million that they already received from SIPC.
Meanwhile, Madoff is serving a 150-year sentence at a federal prison in North Carolina.