'Prince William bachelor party photos!': Spam!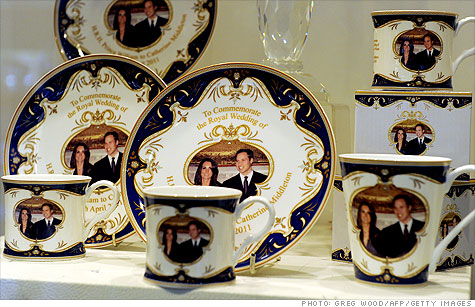 NEW YORK (CNNMoney) -- Hot in your inbox: "Kate's Wedding Dress Details - Leaked!" and "Prince William's Bachelor Party Photos!" If you click on these emails, then you've probably been spammed!
With just days to go before the royal wedding of Prince William and Kate Middleton, buzz is building about what's being pegged as one of the biggest events of the year.
Royal wedding fever is creating a frenzy for Kate and wedding-related searches on Google (GOOG, Fortune 500).
And with the royal nuptials occurring on April 29 -- a Friday -- millions of people around the world are expected to view the event on their computers at work.
But that's where the danger lies, according to cyber security experts.
"Whenever there are big crowds online, we see a spike in criminal activity," said Helen Malani, cybercrime education expert with Norton, a division of Internet security company Symantec Corp (SYMC, Fortune 500).
While many legitimate businesses are hoping to cash in on the mania by selling royal wedding-inspired paraphernalia, Malani said cybercriminals are looking to "crash" the wedding hype, instead.
Norton has tracked an uptick in phishing scams and royal wedding-related "search engine poisoning" since March, Malani said.
She warned that these tactics are primarily financially motivated, designed to steal personal information such as bank account and credit card numbers.
Phishing scams generally use email attachments to spread malicious software. With search engine poisoning, criminals are luring unsuspecting users to websites infested with malware.
Malani said scammers ensure that their "poisoned" query terms rank high up in the search results. When you click on these sites, the malware infests your computer, looking for sensitive personal information.
For instance, Norton experts recently found that 22 of the first 100 searches on Google for "royal wedding gown sketches" were poisoned links, 10 of the first 100 searches for "royal wedding ceremony details" were poisoned as were 10 of the first 100 Google queries for "royal wedding time."
With that in mind, Malani offered three tips to steer clear of scammers.
Don't go click crazy: Avoid clicking on emails that promise "leaked" wedding footage or any "secret" information.
Go with what you know: While any website can be risky, Malani said users should rely on using sites they are already familiar with and that are reputable.
Protect your computer: Make sure your computer is always protected with security software to block threats.
"This royal wedding is truly an e-royal wedding because there's so much information about it on blogs and news websites," said Malani.
"That also means there's plenty of fodder for cybercriminals to do what they do," she said.