Show me the profits - again and again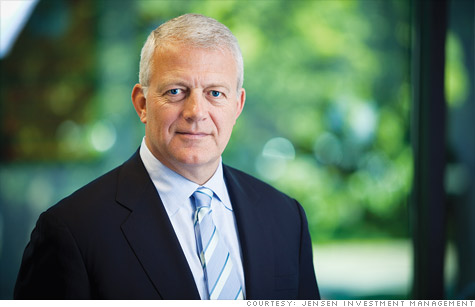 (Money Magazine) -- Profitability isn't enough for Jensen Fund. Consistency matters too.
Jensen's team buys only stocks that have at least an annual 15% return on equity, meaning the company does a solid job of turning the cash provided by shareholders into profits.
And those stocks have to have hit that number every year for a decade before Jensen (JENSX) will buy. (Money 70: Best funds to buy now)
Co-manager Robert Zagunis spoke to reporter Susie Poppick.
Why is it so important for a company to hit your profit goal every single year?
Something remarkable happens after a company has generated high returns for 10 years in a row. It emerges into a different financial category, with more cash than it needs.
It can then reinvest for growth into the business -- new plants, acquisitions, hiring, R&D, and paying dividends.
Does valuation matter?
Absolutely. We calculate a firm's intrinsic value based on future cash flow, factoring in its strategic position and ability to reinvest for higher returns.
We'll hold a stock a long time provided the price doesn't run up to that full value. When it does, we sell.
So where are the best prospects for profits now?
One trend we're looking at is that the U.S. share of the world economy is going to be reduced over the next decades.
Manufacturing conglomerate 3M (MMM, Fortune 500) is an opportunity now. It gets two-thirds of sales from abroad, and that's an important part of the growth story because the margins tend to be higher in other parts of the world, especially emerging countries. You go fishing where the fish are.
A related trend is the need to invest in infrastructure in countries around the world. Valves and switches, industrial automation, HVAC components, and things like that.
Emerson Electric (EMR, Fortune 500) benefits from that, and it, along with 3M, has consistently increased dividends.
Software maker Adobe is over 5% of your portfolio. What's so great about it?
Adobe (ADBE) gets about 12% of revenue from Japan, so obviously that's been hit. But it develops software like Photoshop that has intense loyalty among the people who use it.
The company is also able to develop those products for other places in the world. Its profit margin is north of 20%, and it has relatively low debt.