Consultant to company co-owner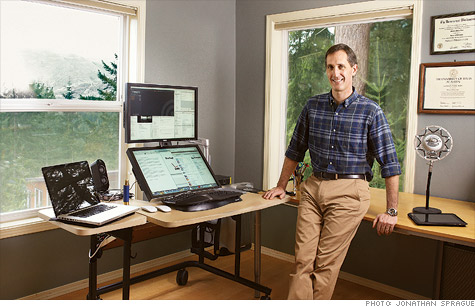 (Money magazine) -- Ask Matthew Dunn what his job is, and he'll tell you he's "chief explainer." Dunn is the co-founder of Say It Visually, which makes animated videos that companies use to introduce products online.
Dunn spent a chunk of time at Microsoft and later worked as an intellectual-property consultant; his partner, Jordan Schaffel, with whom he had worked years earlier at a tech startup, was in software sales. Both found themselves translating complex concepts.
(See also: Tycoon in the making)
"That led us to talk about whether there was a market for explaining things," Dunn says. Inspired by YouTube's success, they agreed to give Say It Visually a go in 2008, turning a profit in just three months.
Clients have included Verizon (VZ, Fortune 500) and P&G (PG, Fortune 500). Last year sales hit $390,000; each took home $100,000.
"My market value in the corporate world is a lot higher," says Dunn, who had made $160,000, "but this is more fun."
How he did it
1. By setting a deadline.
If the business didn't show promise within six months, Dunn planned to go back to consulting.
"I'm a family man first, entrepreneur second," says the father of two. "I would not have drained our savings to get this off the ground."
2. By budgeting.
Dunn figured he'd need $10,000 a month for living expenses and his share of startup costs.
To close the gap, his wife ramped up her personal-chef business and they tapped their cash savings as needed (but avoided their retirement money).
3. By operating on the cheap.
Low overhead helped the firm profit quickly.
Schaffel lives in D.C., so he and Dunn work from home, conferring via Skype.
Rather than spending cash on marketing, they created sample videos, which they posted on YouTube.