Novartis: We're paying for reform without seeing benefits yet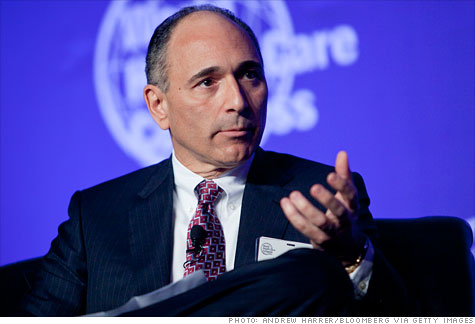 FORTUNE -- Swiss drug maker Novartis AG is facing tough competition from generics as several of its key drugs -- namely, bestseller Diovan for hypertension -- begin to lose patent protection in 2012.
Profits fell during the last two consecutive quarters as sales of influenza declined following the end of the flu pandemic and as the company purchased its remaining stake in eye care company Alcon. Despite this, Novartis is planning for long-term growth from its investments in emerging markets and its focus on research efforts on rare diseases. It is banking big on overseas markets -- particularly China, where government officials plan to reform its health care system and widen insurance coverage to include many more of China's hundreds of millions of rural residents.
Fortune caught up with CEO Joseph Jimenez, who talked about investing in China, U.S. health care policy and the future of blockbusters. Below is an edited transcript of the interview.
Novartis plans to spend more than $1 billion through 2014 in a pair of R&D centers near Shanghai. The country still has major problems with knockoff products, including rampant pharmaceutical piracy, what do you think of the government's enforcement of intellectual property laws?
While I believe there is still a ways to go in terms of 100% protection of intellectual property, the government has made significant progress. Because the government understands the importance of this in the pharmaceutical industry we're seeing enough levels of protection that we feel comfortable making that investment.
There are a lot of health care needs in the U.S., too. What do you think about the current budget talks in Washington, including ways to reduce American spending on drugs?
Obviously we're watching it. But when you think about the fact that you've got 2012 elections coming up in the US I think there's going to be many twists and turns over the next 18 to 24 months.
If you look at the health care reforms that were just put in place, the costs have hit the pharmaceutical industry already and the benefits of additional coverage have not yet hit.
There's a timing issue there. Novartis (NVS) and other pharmaceutical companies began paying the higher Medicaid rebates. We're incurring those costs now, even though the additional coverage that the legislation was intended to create won't occur for a while.
We fundamentally support any additional coverage for any American who is not insured. With lots of talk about health care and cutting Medicare or cutting Medicaid, I think we shouldn't overreact over what's being discussed and see how it plays out.
Novartis faces tough competition from generic drugs. How can the company grow its generics unit, Sandoz?
We're following a strategy focused on difficult-to-make generics that span three categories: Biosimilars, oncology injectables and respiratory drugs. Over the next five years, the drugs in biologics that are going to go generic represent over $60 billion in sales. It's a massive market. We're investing heavily in developing new biosimilars that will come to market. Same thing with oncology injectables. We've also put a significant amount of resources in respiratory.
So by differentiating, we're able to command premium prices within generics in ways that our competitors can't. Enoxaparin, which is generic lovenox, is a good example of a difficult to make generic. One of the reasons why Sandoz has performed so well over the past year is that we launched Enoxaparin and there is no other competition other than the originator, which is sold by Sanofi Aventis (SNY). I think by focusing on that strategy we've really been able to differentiate ourselves.
What's the future for blockbuster drugs?
There will always be blockbusters but the definition of a blockbuster is changing. Ten years ago, we went after broad therapy areas that had large patient pools, such as hypertension. We used to develop the drug and market it very heavily and it would generate over a billion dollars. That's how we defined a blockbuster.
What's happening now is that we have taken a very different approach, driven by the external environment. You've got regulators who have made it tougher to approve new drugs.
We're looking at pathways of particular diseases -- developing drugs that disrupt that pathway and then extending those drugs to other diseases that are influenced by the same molecular pathway.
A good example of this is Ilaris, which is for a rare set of autoimmune diseases called cryopyrin-associated periodic syndrome. I think there are only 6,000 patients globally with this disease. But the mechanism, the pathway of this disease, is the same pathway that is prevalent in gout. And there are 3 million patients with acute gout.
We have developed the drug in gout and we're awaiting FDA approval for this compound. This is a perfect example of how you would have multiple indications for the same drug and that's the way the drug would become -- let's say, a blockbuster. Not that Ilaris will become a blockbuster but there will be multiple indications and multiple diseases through this fundamentally different approach.