Goodbye, $5 ATM fees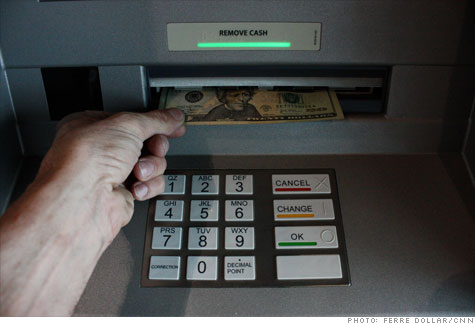 NEW YORK (CNNMoney) -- Apparently people don't like paying $5 to withdraw their own money from an ATM.
JPMorgan Chase (JPM, Fortune 500) said Monday it has finished testing $4 and $5 ATM fees for non-customers in two states, and it is now going back to the $3 fees it previously charged.
Earlier this year,the bank had been testing a $5 ATM fee in Illinois and a $4 ATM fee in Texas -- both for non-customers who use its ATMs -- to see if they brought in enough revenue to introduce nationwide, according to a spokesman for the company.
Out of the bank's network of 16,000 ATMs, more than 20% -- or about 3,600 -- are located in these two states.

Chase spent an estimated $400 million to build the entire network and pays $200 million a year to run it. So the bank wanted non-customers to pay a little extra for the convenience of using its large network.
But the $5 fee meant that a $20 withdrawal would cost you a 25% premium for that convenience. And that doesn't even include what your own bank charges you for going out of network -- typically around $3.
But it looks like that $5 threshold inconvenienced enough customers, and convinced them to trek an extra few blocks to their own banks.
So Chase threw in the towel, and the $3 ATM fees you're used to paying are back -- for now.