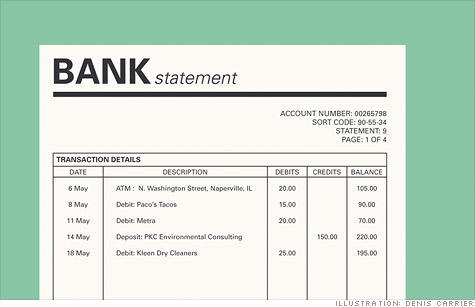 (Money Magazine) -- You may have noticed that the appeals to go paperless from banks, credit card issuers, and brokerages have reached fever pitch lately.
While the marketing often plays up the environmental benefits, the push to accept online statements is really all about saving a buck -- the company's buck, that is. Banks in particular are trying to make up for revenue lost due to recent credit and debit legislation, says Lauren Saunders of the National Consumer Law Center.
Despite the hard sell, only 24% of bank customers have gone digital, and more than a third say they'll never switch, Forrester Research found.
Among the latter? Maybe you should rethink: "Besides the feel-good story about saving trees, there are many advantages to going paperless," says Riverdale, N.J., financial planner Michael Gibney.
Statements are available sooner, transactions are searchable, and the risk of your ID being stolen through the mail is lowered. But if you're going to do it, do it right.
Create an e-filing cabinet
The top reason people give for not choosing e-statements: fear they'll need paper copies. But that's the wrong anxiety. A statement printed at home has the same legal value as one you get in the mail, Gibney says.
Of greater concern: Many institutions keep only one year of records online. To save yourself from last-minute scrambles for documents, download key statements.
Create folders on your hard drive for proof of deductible expenses (save for seven years); proof of major purchases (for insurance and warranties); bills (delete once paid); and purchase slips and end-of-year statements on investment accounts (for tax reasons).
Set up a review system
One legitimate risk of going paperless is that it's easier to ignore the statements and miss wrongful charges, term changes, or due dates, notes Saunders.
Stay vigilant by signing up for e-mail alerts notifying you when a bill or statement is available. (Just be sure to add the institutions to your "safe senders" list, so that they don't get tagged as spam.)
Keep the messages marked "unread" until you act on them.
Protect your data
In the Forrester study, consumers also expressed concerns about what would happen if their computers crashed. Indeed, you'd have to chase all the documents you'd downloaded.
Avert this annoyance by backing up the folders onto a CD or external hard drive.
Finally, while going digital protects you from dumpster-diving ID thieves, saving documents on your hard drive can open you up to other privacy risks, says Ondrej Krehel of Identity Theft 911.
So keep your computer's antivirus software up-to-date, and, if you use a laptop, make sure it's password-protected and that the files are saved with encryption.