Put some punch into your career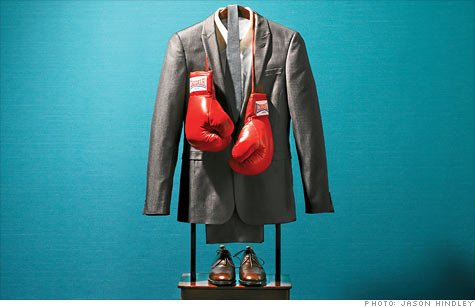 (Money Magazine) -- It's probably safe to come out from under your desk now.
Over the past few years you may have found yourself in defensive mode, career-wise. But if you've survived, you're probably in the clear.
As a whole, U.S. employers have been adding rather than subtracting jobs these past few months, according to the Bureau of Labor Statistics. And that means you can focus on your ambitions again and begin laying the groundwork for a promotion.
Just because the firings have slowed, however, doesn't mean that companies are hoisting people up the ladder.
To get ahead today, "it's going to take an investment of extra work, extra enthusiasm, and extra energy," says Dan Finnigan, CEO of Jobvite, a social-recruiting software.
The four strategies that follow can help you move your career forward.
Make a lateral move
Years ago a sideways job move was viewed as a demotion. Not so in today's less hierarchical offices.
"Now it's about zigzagging your way to the top, vs. taking the elevator," says Sarah Hathorn of Illustra Consulting, a career advisory firm in Atlanta.
A lateral move could help you advance, she says, if any of the following apply:
A different job at the same level will help you round out your skills;
there's no room for growth in your division;
you're so entrenched that superiors see you only one way;
or you want to move to a new job function (say, from marketing to sales).
How to do it:
Review listings on the internal job site -- looking particularly for posts at smaller divisions, where you might get more responsibility -- and connect with your HR rep, who can act as an advocate.
Also participate in companywide committees and activities to make contacts in your target department, says L.A. career coach David Couper. Cultivate their support by taking them to lunch and asking their advice.
If you want to change functions entirely, get your boss's buy-in too -- you'll need help making the case to others.
Solve the boss's problem
Success in today's workplace often hinges on delivering quantifiable results. But supervisors aren't always generous with the kind of assignments that will allow underlings to shine.
"Bosses who are nervous about their own jobs hang on to projects they think are important," says Couper. Getting plum tasks, then, depends on your ability to manage up.
How to do it:
Pay attention to areas in which your manager is weak -- or in which your department is facing a crisis that is stressing your boss out -- and offer to relieve some of the burden, advises Hathorn.
"Say, 'I know this project is due, and I'd love to learn this aspect of the business. Could I take on X or Y part?' "
This shows that you're a self-starter and continual learner. Plus, if you do a good job, your boss will trust you with even better projects.
Hone your soft skills
At a senior level, technical knowledge alone won't get you ahead.
Research recently published in the Harvard Business Review shows that success in C-suite jobs, such as chief technology officer and chief marketing officer, increasingly depends more on leadership skills and understanding of business fundamentals than on the technical skills and functional knowledge that mattered early in one's career. So work on the soft skill that will make a difference in your division.
How to do it:
First, sit down with your superior and say, "Be honest with me. What soft skills do you think I'm lacking or need to hone?"
Think your boss isn't the type to tell? Recall where your last performance review showed deficiencies; also, solicit feedback from peers.
In a recent American Management Association poll, executives said that being mentored is among the most effective ways to build soft skills; so look for someone who excels in the areas you do not, and flatter him or her by asking for coaching.
Or take a class -- your company may offer training on topics like public speaking or leadership -- and, once completed, ask your boss if it has helped you to improve.
Capitalize on change
Whenever there's change at a company -- whether a merger or acquisition, the arrival of consultants, or the departure of a boss or colleague -- the instinct is to hide. Big mistake, says Hathorn. In times of transition, opportunities are created.
How to do it:
Look for ways to use the upheaval to recast your role.
That may mean, for example, sharing your ideas with the visiting cost-cutting consultant or new division head, volunteering for duties held by a departing colleague, or offering to mentor employees in a company your firm is acquiring.
If you stay invisible, it'll be easier for the new leadership to discount your contributions and cut your job.
Says Finnigan: "If you're not moving up, you're slowly moving out."
Build the right skills
Top managers are recognizing a talent gap when it comes to certain skills that they deem important. Filling the void can help you get ahead.