NEW YORK (CNNMoney) -- There is some good news for college grads looking for that first job.
Employers report they'll hire 19% more new college graduates this year than last year, and average salary offers will start at $50,462, according to the National Association of Colleges and Employers (NACE).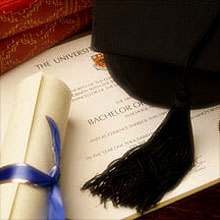 That said, if you're looking to land a great post-grad gig, there are few things you need to do to get your foot in the door.
Tip 1. Network, network, network
First, make sure you're ready to network -- online and in person.
Hiring managers may look up potential employees on their social media sites, so get rid of any photos online showing you in any unflattering light.
Moreover, give your contact information a mature makeover by changing your e-mail address and voicemail greeting so they're professional and appropriate.
Also, stay in touch with your school's career center as well as their alumni office, who can help match you up with contacts in your desired field.
Tip 2. Fill in the blanks on your resume
Now, with some employers taking 30 seconds or less to review a resume, highlight your accomplishments and work in-and-out of the classroom, especially if you're light on professional experience.
Hiring managers want to see you've been active and not just slacking off in school.
List your internships, part-time jobs, volunteer and class work, involvement in clubs, Greek life and sports -- all things employers told CareerBuilder count as relevant experience.
And your prior internship may pay off for you. A recent NACE survey showed hiring managers recruited more than half their interns for full-time positions last year, so check-in with your former employer too.
Tip 3. Mind your manners
Grads, first impressions count.
When it comes to the interview, CareerBuilder says some of the biggest mistakes employers report are college grads coming in with no knowledge on the company, acting entitled, dressing inappropriately, and not turning off their cell phone during the interview.
Finally, don't forget to send a thank-you note. More than one-in-five hiring managers say they're less likely to hire someone if they don't send a thank-you letter, according to CareerBuilder, e-mailing your thank-you note is generally accepted these days, and it's a quicker way to keep yourself fresh in the mind of your interviewer. But if you feel the job calls for a more formal approach, send a letter via snail mail.
Keep all these little things in mind, and you could hear the phrase "you're hired!" sooner than you think.