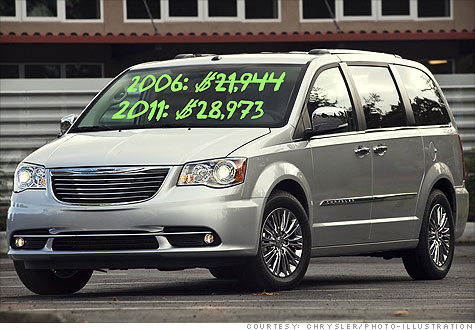 The average price paid for a Chrysler Town & Country has risen 32% in 5 years. The van has improved and competitors have dropped out, but Chrysler has also learned to combine features buyers want, said sales executive Steven Beahm.
NEW YORK (CNNMoney) -- Good news... American cars are better than they've been in years. The bad news ... if you want one, be prepared to pay up.
The old days of gigantic rebates and deep dealer discounts on Ford (F, Fortune 500), Chrysler and General Motors (GM, Fortune 500) products are over.
Today, domestic cars are selling closer to full sticker price, even after rebates and other incentives are factored in, than they were in 2006, according to Edmunds.com.
It's not just lower discounts, either. Prices paid for American cars, after rebates and negotiations, are just plain higher as buyers opt for pricier cars with more features.
Buyers are paying almost 33% more for Buicks, for instance, and 24% more for Chryslers, according to Edmunds.com.
Redesigns of some key models have also helped push prices higher. The average selling price of a Chevrolet Equinox crossover SUV is now 24% higher than it was in 2006. Customers are also paying about 32% more for Chrysler Town & Country minivans and 14% more for Ford Mustangs, according to Edmunds.com.
Meanwhile, the major Japanese brands -- Honda, Nissan and Toyota -- are selling cars at prices farther from the sticker price, according to Edmunds.com.
"The domestics are better able to optimize both their pricing strategies and their incentives strategy," said Jesse Toprak, an analyst with the automotive Web site Truecar.com.
Only Korean automaker Hyundai is sharing the domestic automakers' surge in pricing power.
American automakers are also offering more options on smaller cars, something else that's boosting prices. In the past, domestic automakers figured small car buyers just wanted cheap wheels, said Edmunds.com analyst Jessica Caldwell, but now they realize that, while they want to save money on gas,today's small car buyers still want a nice car.
Domestic automakers have also done a better job of simplifying their offerings, said Caldwell. Today there are fewer different models and fewer versions of each model. That makes it easier for dealers to stock their inventories and it leads to fewer unwanted cars sitting on dealer lots.
While that makes it easier for customers to find cars with the features they're really looking for, it also makes it harder to get a killer deal on one of those ugly ducklings.
For car buyers, all this means doing some added legwork -- or mousework -- to get the best price for your new car.
Web sites such as Edmunds.com, Truecar.com, AOL Autos and Kelley Blue Book's KBB.com allow car shoppers to configure cars with the options they want and to see, generally, what people are really paying for them.
There are also several Web sites available today, including Zag.com and CarWoo.com, that provide up-front dealers prices without requiring you to share your contact information so that dealers can't hound you. (Carwoo.com charges a fee for the service.) Using sites like these is far better than haggling face-to-face, one dealership at a time.
Finally, don't skimp on test drives. With so much information available on the Internet, it's tempting to pick a car and negotiate a price on-line, relegating the test drive to a "just to make sure" spin around the block before signing the papers.
But, if you never test drive any competing models, how can you really know you're getting the right car for you? Narrow your search down to two or three cars on-line, then go test drive them. Just make sure to tell the salesperson, up front, you won't be buying right then.