Relax, car shopping's getting easier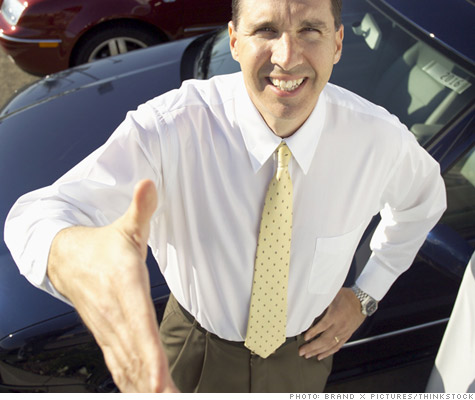 NEW YORK (CNNMoney.com) -- The cutthroat world of car pricing is getting simpler and gentler for car buyers but more ruthless for car dealerships.
That's because in the power struggle between dealers and shoppers, the buyer has prevailed, thanks to the Internet. Getting a straight answer on price from dealers used to be like pulling teeth. Now, as car dealers hunt for dwindling buyers they're freely quoting prices on web sites.
With a bit of research, savvy car buyers can pit dealers against one another, from the comfort of their own homes.
Here's how it's done: First of all, know exactly what you want: make, model, options, even the color. And make sure the price the dealer is quoting you is for the precise car you want. If it isn't, make sure you know exactly what's different.
Don't go to the dealership. Instead pick up the telephone, write an email and use a car buying Web site.
Any of the Web sites that partner with Zag.com make great places to start. Among them are Consumerreports.org, Overstock.com, USAA.com, AmericanExpress.com, Aol.com and others. (The Zag.com Web site has links to them all.)
At these sites, you'll see actual prices from several competing dealers in your area before you have to provide any of your contact information. That means you can choose to start a dialog only with those dealers that offer competitive prices and that have good customer service ratings.
With on-line pricing, each dealer knows a better offer may be only a mouse click away, so they all get to the bottom line price faster saving you time, stress and hopefully money.
Even when you call or email, some dealers may still try to get you to come into the dealership before they'll discuss price. Ignore them and move along, advised Phil Reed, consumer advice editor for the automotive Web site Edmunds.com.
"If you find yourself being turned over to a traditional salesperson, or there's resistance to giving you a price over the phone, you may be at the wrong place," he said.
Scott Painter, who runs Zag.com, thinks we may finally be seeing the end of car sales as we know it. "I think the dealer today that does not embrace up-front pricing will be out of business," he said.
Eliminate the car salesman: The car salesman as we know him is on the endangered species list.
In the future, Painter said, cars will be sold in much the same way that major appliances, such TV's and refrigerators, are sold. Pricing will be decided on a store by store basis and salespeople will be valued for customer service rather than tough negotiating.
To a dealership, an aggressive salesperson who makes you uncomfortable has become more of a liability, and one who listens and makes you feel understood more of asset. Let's face it, that Chevrolet Equinox or Toyota Avalon you can get from one dealer is the same as you'd get at another. While that's always been true, it's now much easier to shop around.
Auto sales consultant George Dans, who bills himself as "the world's greatest closer," said he sees the changes already. With pricing power in the customer's hands, the way for car salesmen and dealerships to fight back is by being nicer and more attentive than the other guy.
"You've got to come up with five to 10 good reasons they should buy from your dealership," he said "otherwise they're just going to buy from the guy with the lowest price."
Dealers who don't play fair -- for instance, not honoring prices they quote on-line -- will quickly realize the Internet's other equalizing effect, said Brian Benstock, who runs Paragon Honda and Acura in New York City. Word of bad customer service gets around.
"The same customers that are out there using the Internet to find you will use the Internet to destroy you."
Car dealerships see the light: As the Internet gives car shoppers more power, the nation's biggest auto dealers aren't fighting the change. In fact, they see an opportunity.
All the emphasis on competitive on-line pricing means lower prices for customers and slimmer profit margins on new car sales, but those profits have been paper-thin for a long time, anyway. The benefit to the dealer in all this it speeds up the sales process, said Paragon's Benstock.
"If you want to make a lot, make a little and you can make a little a lot of times," he said.
Besides minimizing the time and hassle needed to earn that small profit, easing the new car sales process means creating more customers. Those customer relationships allow dealers to cultivate profits in other areas like parts, service and used cars.
Autonation (AN, Fortune 500), the country's biggest dealership chain, is experimenting with up-front Internet pricing in several states.
Sonic Automotive (SAH, Fortune 500), another of the nation's biggest auto dealers, is refocusing its 120 dealerships' to emphasize phones and the Internet as the initial point of contact for most customers.
"Our vision is to have 100% of our dealerships modeled as e-sales offices," said Rachel Richards, vice president of retail strategy for Sonic.
Asbury Automotive (ABG), another top dealership has also been experimenting with up-front pricing at its Nalley Toyota dealership in Roswell, Ga., said Chief Operating Officer Michael Kearney.
For now, he said, most customers still negotiate in person, but their numbers are declining.
"If you want to place me out there 10 years from now, I'd be surprised if the vast majority of pricing isn't settled on-line," he said.